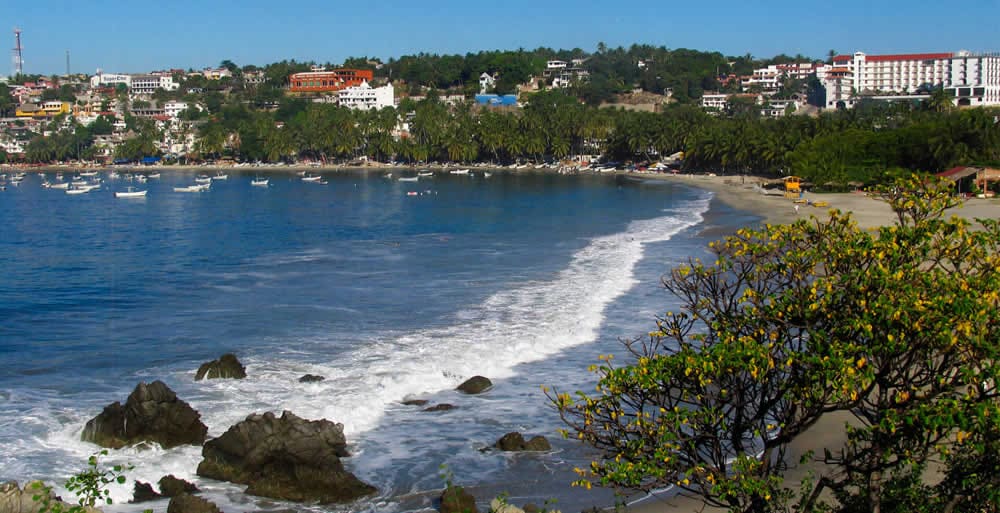 Where to rent a house or apartment in Puerto Escondido?
Puerto Escondido is one of the most chosen destinations by travelers from all over the world who decide to change their minds and try living in other countries for a while. In addition, in recent years it has positioned itself as one of the main vacation spots chosen by tourists from all over the world. The number of local visitors who choose Puerto Escondido as their place of escape and relaxation to break with the routine of the cities has also grown.
World-renowned for its big waves that attract surfers from all over the world, Puerto is also positioning itself as one of the best places to live and visit during break time. More and more tourist options are opening up in this paradise and allow you to enjoy all the richness it has to offer.
Now, once you have chosen the next vacation destination, you have to define the accommodation for the selected days, and thus be able to dedicate yourself only to enjoying yourself. As in any tourist place, the options to stay are varied. However, in this article we want to focus on private lodging: house and apartment rentals.
What are the benefits of renting your own space?
You will have a space just for you and the people you choose. You do not share with anyone else.

You can feel at home, even on vacation.

It allows you to have comfortable spaces to cook or store your belongings, without worrying about others using them or safety.

It is generally safer than other options.
If you decide, then, to rent a lodging just for you, you should look for the option that best suits your preferences and budget. For example, it is advisable to first ask yourself if you want to rent a house or an apartment. In general, apartments can be safer, but houses are usually larger and have open spaces to enjoy.
But the most important thing to keep in mind when renting your own accommodation is where. I mean, the location.
Where is the best place to rent a house or apartment in Puerto Escondido?
As we have mentioned before on other occasions, although Puerto Escondido is a small city, there are different neighborhoods and areas where you can stay. Depending on your interests, your budget and the intention of your visit, you will choose the best area to spend your days relaxing.
The main neighborhoods where most tourists decide to stay are:
La Punta de Zicatela: the most top and popular area of ​​Puerto Escondido. Everything happens here: you can surf, enjoy the sunset over the sea and walk barefoot through the sandy streets. A true paradise! Many bars and restaurants to stroll at night and abundant vegetation that surrounds the area of ​​La Punta. Definitely, it is preferred by tourists. However, it is usually one of the most expensive areas due to its high popularity.
Zicatela: the classic surf spot. If you practice this sport and you also like nightlife, then Zicatela is your preferred area. The place of the Mexican pipeline and the popular area where the main nightclubs of Puerto are located.

Rinconada: a neighborhood to stand out. Due to its tranquility, its beauty and its comfort, mixing the local with the foreign, Rinconada is usually an area chosen by tourists who want to seek a little more tranquility but still be close to the beautiful beaches and areas with a bit of movement. night.

Bacocho: the favorite neighborhood of families. One of the most expensive areas of Puerto Escondido, but one of the most beautiful as well. Large and luxurious houses adorn the cobblestone streets creating a scene worthy of a movie. Close to Bacocho Beach and Coral Beach, ideal for spending a nice and rewarding family vacation.
La Barra: Less known and far away from the city, La Barra is the perfect place to rest and forget about everything. The houses that appear for rent in this area are usually designed by famous architects, so the budget to rent a house here is high. But, most of the options are beach houses with a unique style. Ideal for couples or people who really need to rest and get away from it all.
Main Bay: the cheapest and least popular neighborhood, but the most local. The favorite of tourists who travel alone or who seek to fully connect with the local culture. Framed by the famous cobblestone that gave rise to the city of Puerto Escondido, surrounded by typical Oaxacan shops and local food. Ideal for adventurous tourists!
Once you have made the choice of the area that best suits your desires and possibilities, it is recommended that you start looking for your perfect place to rent, in advance. Due to the popularity that Puerto Escondido has gained in recent years, it is better to book your accommodation in advance to be able to choose from all the available options.
You can check on the different online hosting platforms, or in Facebook groups or through internet search engines. You will find different options and it is always good to be able to connect with the owners or administrators of the spaces so that they can provide you with all the relevant information.
So now you know, if you plan to visit Puerto Escondido, it is important that you spend time thinking and looking where to rent your vacation home or apartment to enjoy this wonderful place.