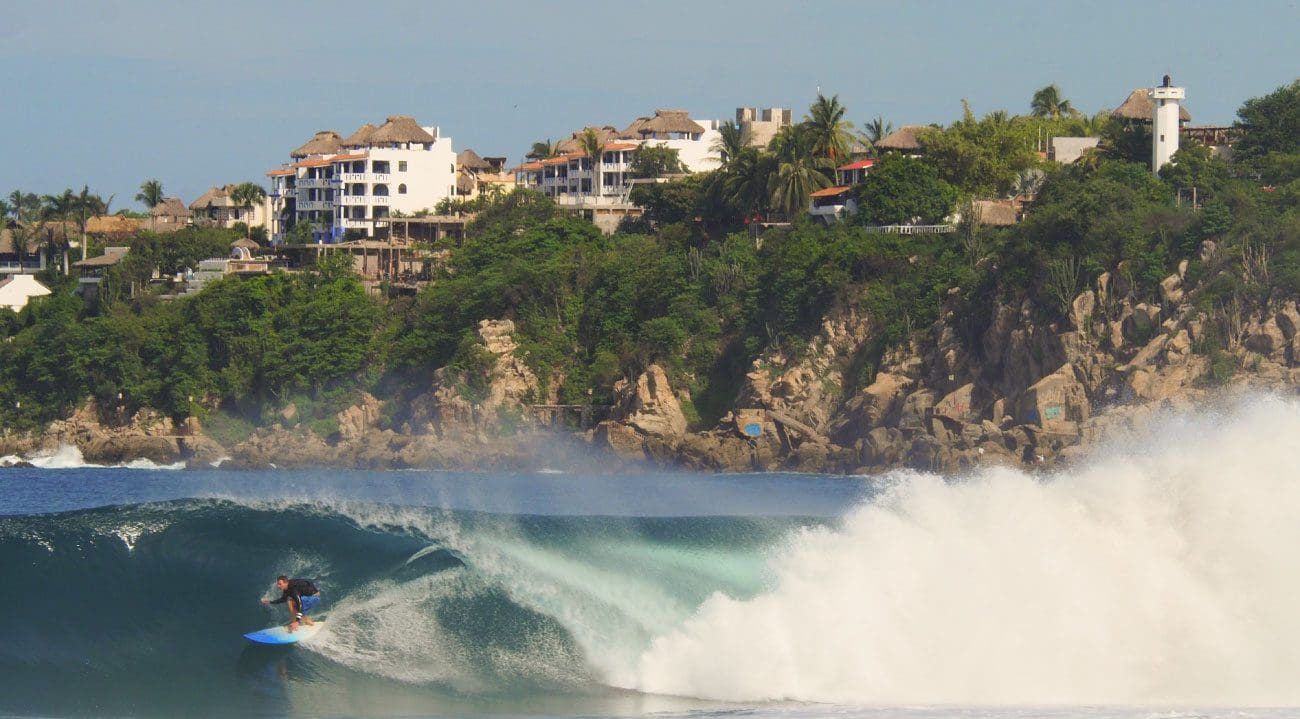 Where to stay in Puerto Escondido
Did you know that Puerto Escondido is the most populated city on the coast of the state of Oaxaca? In addition, it is one of the main tourist destinations.
Although Puerto Escondido may seem like a small place, it has several areas to get to know, do activities and choose where to stay.
From the most popular and noisy areas to have fun with friends, to quiet places where you can spend a romantic night with your partner.
From giant fifteen-meter waves to calm water beaches for snorkeling, everything is offered in this paradise of the Mexican Pacific.
Many times, choosing an accommodation without knowing the destination can be a tricky task, since you cannot really appreciate the different options in each area.
That is why in this short article, we want to help you make your choice easier, so you can know in advance the main characteristics of each area.
Among the various options that Puerto Escondido offers to spend the night, we can highlight four:
These four places are the most popular among tourists who come to Puerto Escondido in search of relaxation and disconnection.
---
In El Centro of Puerto, we can find la Bahía Principal and Adoquín area (known for being the most traditional area). Here you can have a real local feel of the town of Puerto Escondido. Being the oldest and most traditional area, becomes the favorite for those who choose to have an authentic experience of the place.
Also, in El Centro you can find the main market where locals come daily with their products to offer them to the public.
Due to its proximity to the airport and its simplicity and popularity, El Centro de Puerto Escondido is one of the cheapest places chosen by tourists. In addition, it provides comfort when it comes to moving around since it is close to the different tourist proposals that the area offers.
You will find different options that fit every pocket, from 5-star hotels with all commodities, to guesthouses or simpler hotels, with everything you need to spend the night.
If you are looking to have an authentic experience of the local and coastal culture of Puerto Escondido, staying at El Centro may be a good option for you.
---
Also located in a central area but with a little more glamor, we have the Rinconada area where Carrizalillo is located. This area is the popular one chosen by tourists who want to spend several days in a beautiful place but with access to the different tourist attractions in the area.
Carrizalillo beach is one of the most chosen by visitors for its crystal clear waters, its particular staircase descent of 169 steps, and its framing of palm trees and cliffs. In addition, if you are a surf learner, this beach offers you friendly waves to take your first steps on the board.
If you are more keen on diving and underwater life, Carrizalillo is a good option to snorkel and appreciate the varied marine life.
Among the main advantages that this area offers to stay, we can highlight: its proximity to the beach and the center, its various gastronomic options and its tranquility.
If you are one of those who like a little of everything, definitely staying in Carrizalillo is best for you.
---
Moving a bit away from the center and making our way to the most popular beaches, we find the beach and Zicatela area. Famous for its "Mexican pipeline", where in summer the waves can measure up to 15 meters, it is the star of surfers and those who seek to enjoy the spectacle of the waves in this place.
In addition, the beach stretches about 2 kilometers to La Punta, another popular destination.
In Zicatela you can enjoy both day and night, the main beach clubs and bars, are located here. It has a lot of nightlife and is ideal to enjoy and have fun with friends or partners.
Despite being one of the main places chosen by tourism, Zicatela still retains its simplicity and rusticity, worthy of the surfer spirit. That is why finding accommodation in this area can be quite simple and not very expensive.
Being a surfing destination, you can find different options from hotels, hostels or houses to rent and stay for several days.
If you are an advanced surfer, or want to become one, there is no doubt that Zicatela is your place.
---
Accompanied by an extensive line of palm trees on the beach, we find ourselves at the end of Zicatela with the famous La Punta de Zicatela. This little oasis of sandy streets and abundant vegetation offers a perfect combination of surfing, tranquility and nightlife.
La Punta has become, in recent years, one of the favorites for tourists and for those who decide to settle for a while in this place.
Although there are several options to stay, in La Punta there are not many large hotels or resorts. It preserves its magical spirit summarized in boutique hotels, vilas, and hostels. There are different options that fit every budget and this makes it a diverse and varied destination.
If your intention is to venture into the world of surfing, La Punta offers smaller waves and is ideal for beginners.
Any place you choose to stay in La Punta, will be a few meters from the beach which will allow you to walk barefoot and blend in with the local culture.
Waking up, having breakfast, going for a swin in the sea and then having a drink in one of the many places that are in La Punta, is the routine of many of the visitors to this place.
So now you know, from the local option to the surf or the rustic, Puerto Escondido offers a vast variety of places to stay. There is nothing left but to visit this place and enjoy its particular energy.