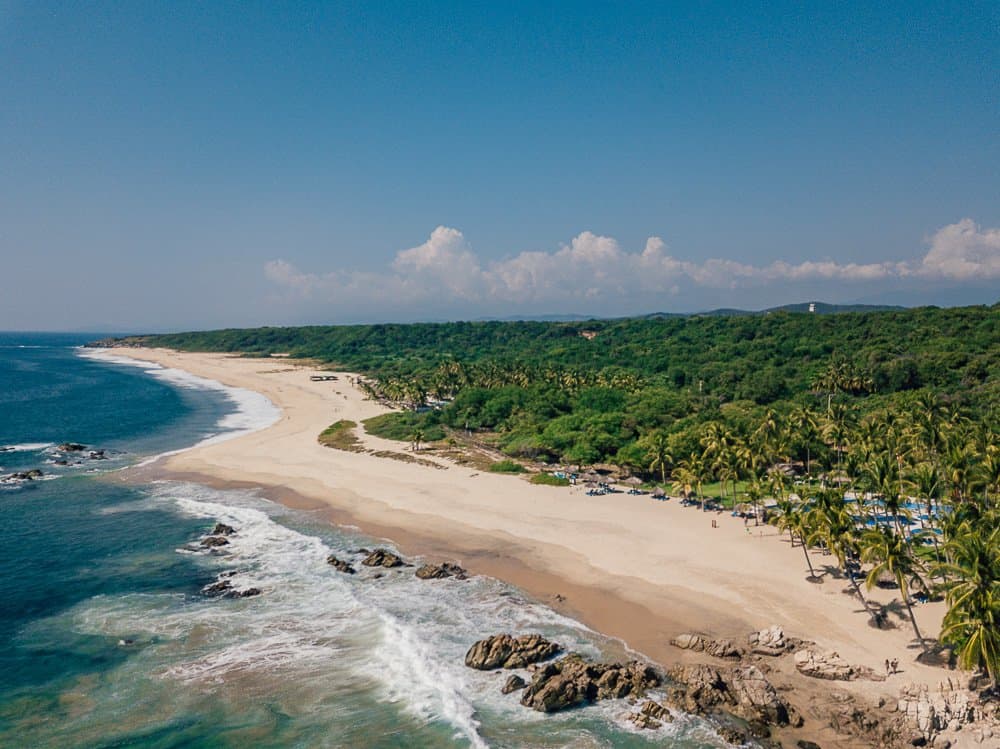 Puerto Escondido: the new Tulum?
In recent years, the coastal city of the State of Oaxaca, Puerto Escondido, has made waves in the world of tourism. Little by little, this paradise of extensive beaches, perfect waves and its good beach vibes style, have been gaining a place in the mouths of tourists who visit it, as well as in the ears of big businessmen who begin to look at Puerto Escondido with greater enthusiasm.
In the past, Puerto Escondido remained (as its name indicates) hidden from millionaire tourism and from the large chains of hotels and tourist restaurants. It was known, mainly and only, for its wave season that happens in the summer and that hosts waves that can reach up to 15 meters in height. This phenomenon was called the Mexican pipeline and became popular among professionals and fans of this water sport. Puerto Escondido was just a surf destination.
However, due to different causes and surely related to the arrival of COVID-19 and the open tourism policy of the country and the Oaxacan State, Puerto Escondido began to build its own personality, beyond surfing. Travelers from different parts of the world, driven from their own countries by the situation during the pandemic, discovered this Mexican paradise and decided to start investing in it. Thus, little by little, the city grew and more and more entrepreneurs made their commitment to this jewel of the Pacific. More hotels, more restaurants and more tourist offers were appearing. There are those who criticize this more touristy side of the place. And others think that it is a great opportunity for the growth and development of the area.
It is interesting to explore the different opinions regarding the growth of Puerto Escondido and the implications that one or the other position may have on the future of this wonderful tourist destination.
People who advocate growth and tourism deployment seek to build large hotel chains, Tulum-style, and places that are mostly attended by people with a lot of money. That is the main argument why they defend the construction of large buildings and tourist chains, to attract people with money and that money stays for the development of the city and thus improve the tourist services offered.
This phenomenon of excessive and exponential growth has been named the "cancunization" phenomenon: "an adjective that qualifies a now stagnant, uncompetitive model with obvious ecological and environmental problems in an urban landscape of great social marginalization, unhealthiness and insecurity, with high vulnerability and fragility to natural, economic and social risks."*
For this reason, several people and movements have emerged that are opposed to Puerto Escondido becoming the new Tulum, through the cancunization phenomenon. For example, the NGO S.O.S. Puerto has stopped the construction of an 18-story hotel on Bacocho beach, with the help of the community. According to studies carried out by this organization, real estate development did not meet the minimum environmental impact rules necessary for construction.
Addressing these issues is not easy since Puerto Escondido has the peculiarity of being divided into two municipalities and that complicates compliance with regulations. The municipality of Santa María de Colotepec is governed by uses and customs, while the municipality of San Pedro Mixtepec is governed by political parties. Both municipalities have different stories about constructions.
Several years ago, an agreement was reached between both municipalities in which a maximum construction height was established, contemplating two levels plus one with a palapa. This agreement was respected for several years. However, recently there have been people who are unaware of this agreement and try to build more than what was agreed.
Thanks to oceanographic studies, it is known that the shape of the wave is totally susceptible to changes. Elevated constructions, docks and houses near the sea affect its quality. Puerto's economy largely depends on the perfection of its waves. The elevated constructions permanently modify the typology.*
Although Puerto Escondido is much more than its surfing waves, it is true that much of its richness and attractiveness lies in the tranquility and abundance of its nature, aspects that could be affected by a tourist development that does not take into account these aspects and the socio-environmental impacts.
It is important to get involved in the conversations that are generated from these positions to understand with greater knowledge and information what is happening in Puerto Escondido and how, as a tourist, you can collaborate in its conservation and ensure the growth and sustainable development of Puerto Escondido. this jewel of the Mexican Pacific.
*Universidad Autónoma del Estado de México
*SOS Puerto