Looking for something in Puerto Escondido ?
Make the best of your trip to Puerto Escondido by experiencing an unforgettable adventure. Find the next highlight of your trip by discovering the large variety of activities Puerto Escondido has to offer:
Tours & Excursions
Tours & Excursions in Puerto Escondido Inicio All Price / person $MXN1600 Sunset Horseback riding Price / person $MXN850 Whale watching Price / person $MXN1800 Hot Springs Horseback Riding Max 5 persons $MXN6000 Fishing tour Price / person $MXN800 Bio luminescence Price / person $MXN800 Sea turtle release Price / person $MXN1200 Crocodile watching Price / person $MXN850 Dolphins watching [...]
Looking to share a unique experience in Puerto Escondido ? You will find here all the private experiences you can realize in Puerto Escondido. Find the experience you are looking for to create unforgettable memories with your family and friends:
Private experiences
Private Experiences in Puerto Escondido Inicio All Price / person $MXN1200 Traditional Oaxacan Cooking Max 10 persons $MXN6000 Private boat For 2 persons $MXN5500 Romantic picnic Price / person $MXN1500 Turtle nesting Price / person $MXN2000 Private horseback riding Price / person $MXN1000 Private Baby turtle release Max 10 persons $MXN5000 Private bio luminescence Prices from $MXN2700 Bachelorette party From [...]
I remember the first time I set foot in Puerto Escondido, bewildered by its stunning beaches and vibrant culture. I was incredibly excited about my new adventure in this Mexican paradise. But it was the allure of horseback riding along

If you've been dreaming of the perfect couple's plan: hot springs in Puerto Escondido, then prepare to be swept off your feet. Picture this - you and your partner, hand in hand, following the gentle echo of a cascading waterfall

If you dream of a peaceful retreat on the Mexican Pacific coast, the Hotel Escondido in Puerto Escondido is where your dreams come true. This renowned establishment embodies the natural charm of the region while offering top-notch amenities and a
Puerto Escondido is located in the state of Oaxaca, in the south west part of Mexico, on the coast between Chiapas and Guerrero. It 's the third biggest city of the state, after Oaxaca and huatulco. The city is divided between two municipalities: San Pedro Mixtepec, and Santa Maria de Colotepec (postal code 71980). In 2021 it was estimated that Puerto Escondido counted around 29,903 inhabitants (source:pueblosamerica.com) versus 20,000 in 2009 (source: wikipedia).
When is the best time to visit?
The best season to visit this mexican gem is between November to May, which is known as the dry season. It is also the season that is the most crowded, indeed its sunny weather, paradisiacal beaches, makes Puerto Escondido a growing tourist attraction in Mexico. According to a study made by the Mexican government, in 2021 the amount of passengers flying to Puerto Escondido's airport has grown by 96.6%.

The most crowded months will be December and January. From June to October is going to be the wet season, where you'll have a hot and humid environment (and lots of mosquitos). These months are a lot more quiet, and the place is still completely enjoyable as it doesn't rain all the time at all. Usually the rain will start late in the day (around 5PM) to night (10 – 11PM).
To know more about the best season to visit Puerto Escondido, please take a look at our blog article: What is the weather like in Puerto Escondido?
You have 5 main areas in Puerto Escondido that are known as: "La punta", "Zicatela", "Rinconada", "El adoquín",and "El centro".
La Punta
"La punta" is the area located in the south part of Puerto Escondido and is called that way because of the configuration of the bay. It.s particularity is indeed to end in a form of a point, which create great waves for surfing (also known as "point breaks") and explains the popularity of this place. La Punta is the most recent growing neighborhood in Puerto Escondido, and thus, the most undeveloped. Expect dirt roads, electricity cuts, chicken, goats, street dogs, and more rustic accommodations. The vibe is chill, hippie, surfer, yoga. It is the most popular area among the foreigners that come to visit Puerto Escondido.

Zicatela
"Zicatela" is the area next to la Punta when you head north. This area is known for its gigantic waves that professionals from all over the world come to surf. Considered as one of the heaviest beach breaks in the world, the waves from Zicatela beach are known to be one of the most dangerous in the whole world. Don't you dare paddling out at Zicatela if you are not an advanced surfer. Apart from its amazing waves, Zicatela offers a more developed zone with hotels and small resorts. Most night clubs are also located in this area, which is known for its late ending parties.

Rinconada
"Rinconada" is an area located in the northern part of Puerto Escondido. This area is characterized by its multiple bays that are much more protected from the waves. The area is more quiet and the infrastructures are more recent. You will find the best restaurants of Puerto Escondido in the main street. It is a good option if you want to take a break, enjoy the beach, eat well, and work remotely (Internet is better than in La Punta or Zicatela). You still have a few bars but if you are looking to party, this is not the area you are looking to spend your vacations. The main bay of this zone is called Carrizalillo beach, and is known to be the most beautiful bay of Puerto Escondido (but can be quite crowded during high season).

El adoquin
"El adoquín" is a small zone between Zicatela and Rinconada, in the middle of Puerto Escondido 's coastline. This 'more traditional' neighborhood is characterized by its local restaurants and markets, especially around seafood. Located right in front of the main bay, this is also the main harbor of Puerto Escondido. Indeed, the main bay being protected from the pacific swells, it makes the place a perfect spot to park the boats safely. If you are looking forward to buying some fish, go on a whale watching or dolphins tour, this is probably where your journey will start.

El centro
"El centro" is simply the city center, where you will find a more traditional Mexico ! If you are traveling on a budget, this is where you will find the cheapest stays, cheapest food, and also the most local experience. You will find everything you need as this is where most of the supermarkets, shops and other services are.
Where to go to the beach?
When it comes to choosing the right beach to fully enjoy your stay in Puerto Escondido, here are the different options you have: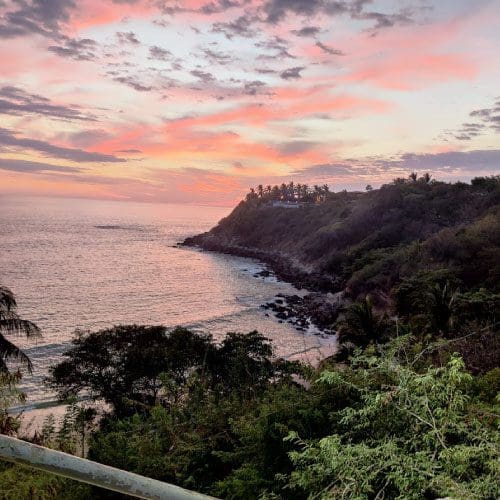 Carrizalillo beach
"Carrizalillo beach", also known as the most beautiful bay of Puerto Escondido. Located in the north part of the city, this bay is popular for its mellow waves that make it the perfect spot to begin surf. Surrounded by big rocks, the bay offers some shadow, and thus cooler areas. You will find local restaurants at the back on the beach where you'll be able to buy food and drinks. During the dry season, at the right corner of the beach, you will be able to buy fresh oysters to locals that go pick them for you. It's a great beach to visit if you are looking to have a swim safely, or to learn surf.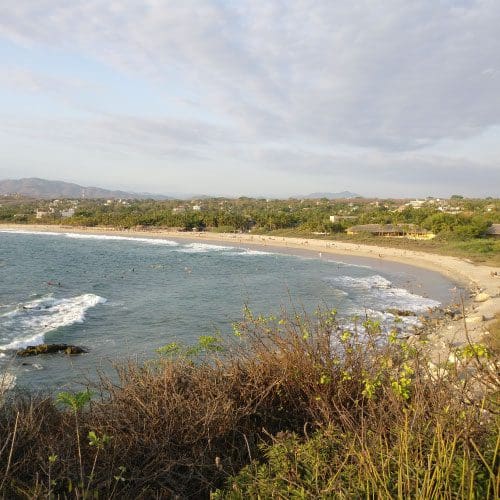 La Punta beach
"La punta beach" is located on the south part of Puerto Escondido, and is known for its consistent point break that offers a long left handed wave. Perfect for surfers from intermediate to advanced level, this relatively friendly break is usually quite crowded. Make sure to respect the locals and be patient, and you will get that wave you are looking for. The beach is quite exposed to the sun and thus not really crowded during daytime due to its high temperatures. The sunsets in la Punta beach are amazing, the beach usually gets crowded at that time of the day.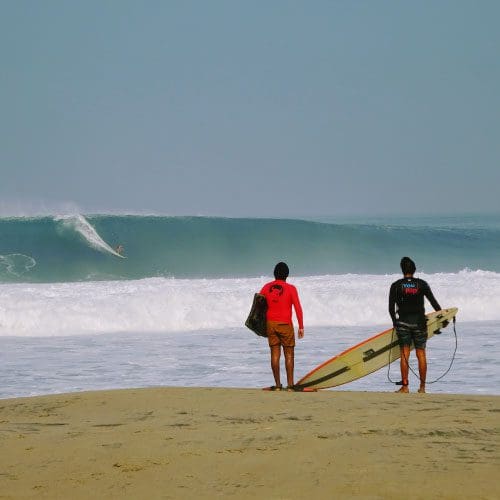 Zicatela beach
"Zicatela beach" also known as "The Mexican Pipeline" or "The Mexpipe" is a beach where you'll either go to surf, or watch people surfing ! This wave is known worldwide to be one of the fastest and heaviest. If you want to get the best barrel of your life, you are in the right spot. Do not go swimming in Zicatela. Don't go surfing in Zicatela if you are not an advanced level surfer. If the waves are big, don't get too close to the water. The level can rise very quickly and the currents are extremely strong. The beach is usually empty during the day, as you don't have any shadow, it gets very hot.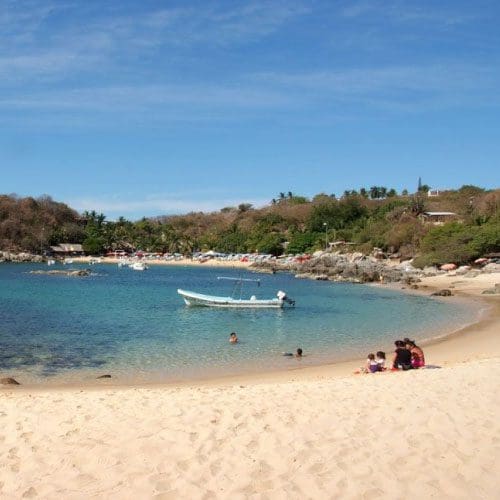 Manzanillo & Puerto Angelito beach
"Manzanillo" and "Puerto Angelito" beaches are located between "El adoquin" and "Rinconada" just a few kilometers south Carrizalillo bay. They are two small bays connected to each other, surrounded by rocks and palm trees, enclosed by cliffs and vegetation. They are usuallly less crowded than Carrizalillo beach. You can find restaurants and bars open during the whole day. To know everything about these beaches, please read our guide on Manzanillo and Puerto Angelito.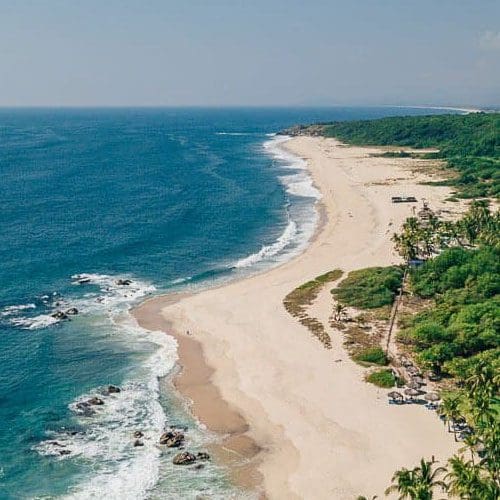 Bacocho beach
Located in the extreme north of the city of Puerto Escondido, being the last beach considered part of this place, is Playa Bacocho. An extensive and wide beach that is considered one of the most important natural reserves in Puerto Escondido since there is a large presence of mangroves and a very varied and diverse ecosystem. In addition, here is one of the main turtle camps in the area that takes care of turtle eggs and then releases the turtles into the sea when they hatch. You can collaborate with the work of this organization and participate in the release of turtles, a wonderful experience without a doubt!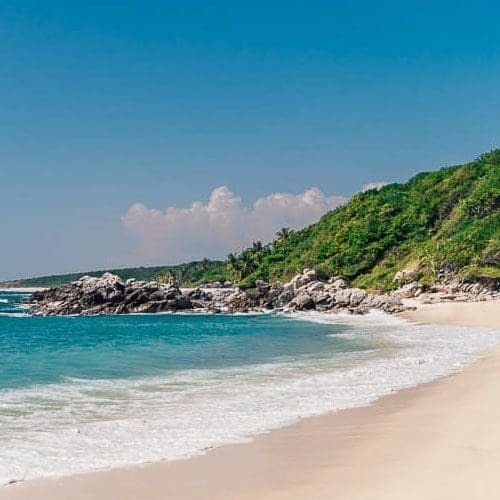 Coral beach
Next to Playa Bacocho, there is a small and beautiful bay called Playa Coral. It is one of the wildest beaches in Puerto Escondido. Its waves are calm and it is perfect for swimming. Also, if you like marine life, you can practice snorkeling because the abundance of fish and turtles is really amazing in this place. To access this beach you can opt for a private entrance through the hotel that is located in the upper part of the beach, or walk from Playa Bacocho along the path between the rocks.
Beaches near Puerto Escondido: Mazunte & Zipolite
Just 1 hour from Puerto Escondido, to the south, are the well-known beaches of Mazunte and Zipolite. Both are very touristy too and with their particular characteristics.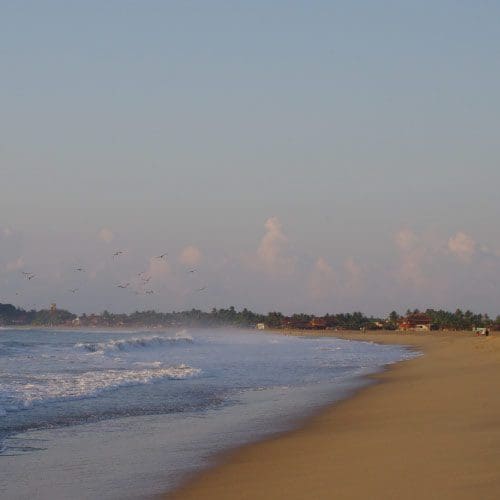 Zipolite
Swimming naked in the Pacific without problems? Of course! Zipolite is the place to do it. It is decreed as a nudist beach, which enables the possibility of walking without clothes on the beach. Zipolite houses many people who have retired from their countries of origin to live in paradise. In addition, it is a beautiful beach that offers a lot of nightlife for party lovers.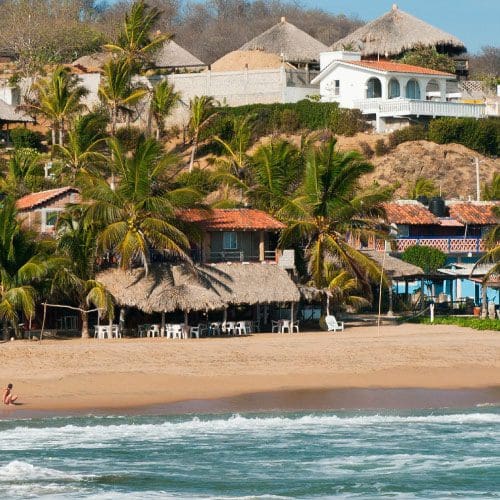 Mazunte
This magical town is characterized for being one of the places on the Oaxaca coast with the greatest offer of cultural, artistic and personal development activities such as yoga, meditation, dance, theater, etc. In addition, there is a wide variety of gastronomic offerings. The gem of this magical town is Punta Cometa: a place that is located on a cliff and from where you can see the sunset. It's really beautiful.
.
Beaches near Puerto Escondido: Others
In addition to the beaches mentioned above, the Oaxaca coast offers endless beautiful and almost virgin beaches to visit, enjoy and spend the day. To the south, on the way to Mazunte and Zipolite, are the beaches of: La Barra, Agua Blanca, Tierra Blanca, Puertecito, Ventanilla, San Agustinillo, El Tomatal... to name a few. And to the north, on the way to Acapulco, are the beaches of: Punta Colorada, Agua Dulce, Roca Blanca, among others… It really is worth taking some time to explore these uncrowded and very beautiful beaches.
Lagoon of Manialtepec
Although it does not qualify as a beach because it does not have a sea. The Manialtepec Lagoon is one of the best-known freshwater attractions near Puerto Escondido. It is located about 18 kilometers from the center of Puerto and is a completely natural environment. It houses a wide variety of birds and fauna typical of the area. In addition, it is home to large mangrove reserves (native trees that are essential to combat the effects of climate change). You can do many activities such as: stand up paddle, kayaking, horseback riding and the star of this place: swimming at night among the bioluminescence. The sunsets over this great mirror of freshwater are also like a movie.
The gastronomic menu of Puerto Escondido is varied and abundant. There is everything. Both vegetarian options and for those who do eat meat or lovers of fish and seafood. Here we tell you some of the main options:

Local food – seafood
The best places to taste typical food of the area are in the Main Bay. They are the most traditional restaurants that offer mainly seafood dishes such as fish and shellfish, which are accompanied with salads and rice. The dishes are usually abundant and very tasty. The prices are affordable and the view of the sea from the Main Bay is undoubtedly a point in favor of these traditional places to eat in Puerto Escondido.
International food
From the typical Italian pizza to Asian or Arabic food. You can find everything to try in Puerto Escondido. The most famous pizzerias are in the Rinconada area. In this same area, you can find Asian food like sushi or Arabic like the classic shawarmas. The gastronomic offer in Rinconada is really very good and we highly recommend a walk through its streets to taste the different international food options that are presented there.
Eat, drink and dance
If we are looking for food places where you can eat rich, varied, accompanied by a good cocktail and live music: we have to name La Punta de Zicatela. This area has become the most popular among foreign tourists who visit the coastal paradise. In La Punta you can eat from typical local food to Peruvian and Asian dishes. The surfer and relaxed wave of La Punta provides a very attractive environment for anyone who visits Puerto Escondido.
Where to work as a Digital Nomad?
With the arrival of COVID-19, remote work has increased considerably. The possibility of working remotely, with your computer, from anywhere in the world, has become the opportunity for many travel lovers. Here we tell you some of the best places to work as a digital nomad in Puerto Escondido.

Coworkings
The post-pandemic situation enabled the possibility of reopening shared work spaces such as coworking. Places that, in Puerto Escondido, have become key for people who work remotely, since the internet is not usually the best attribute of this beach paradise.
Among the main coworking spaces chosen by tourists and expats are: Losodeli in Rinconada, Pauline creative Hub in Bacocho, Selina in Zicatela and El Mundito in Tamarindos (which also offers lodging).
These places usually offer membership packages or day passes to enjoy the services offered and the good internet connection.
Cafes with good internet
Another option, if you do not want to pay memberships or passes and only need to work a few hours, is to look for one of the cafes with the best internet in Puerto Escondido.
Just to name a few, we highlight here: Amarisa (based in La Punta and in Zicatela), Puerto Brew (brewery in Rinconada), Malagua café (in Tamarindos).
The truth is that, as the number of tourists arriving in Puerto Escondido has grown, the internet has also been improving, so it is possible that today many more places such as hostels, cafes and restaurants have a good connection to accompany the life of digital nomads.
How to get to Puerto Escondido
Although its name indicates the quality of being "hidden" this is not true in fact to get to Puerto Escondido. It depends on where you come from, there are many options to arrive at this paradise of the Mexican Pacific.

Airway
Puerto Escondido has an airport that allows the arrival of domestic flights mainly from Mexico City and Guadalajara. Being domestic flights, the prices are quite cheap, especially if you find good deals.
The main airlines that arrive at this airport are Viva Aerobus and Volaris.
Once you arrive at the Airport, you can choose to rent your own car right there, or take a minibus to the city center or take a private taxi to your destination.
Land route
In Puerto Escondido there are bus and minibus terminals that come from different parts of the country. ADO and OCC are the main bus companies that offer services from Oaxaca, Huatulco, Acapulco, Mexico City, etc…
In addition, there are minibus terminals that offer shorter distance services such as Mazunte, Chacahua, San José del Pacífico, among others.
Another option to consider to get to Puerto Escondido is to rent a car in your city of origin and drive to this place. The routes are usually in good condition, but above all, they house an exotic beauty like no other that will make you really enjoy the trip.
More information about your trip to Puerto Escondido
On this page you will find quality and reliable information to organize your visit: From discovering the activities available in this hidden paradise to where to eat delicious meals or rent your surfboard. Puerto Escondido is a destination that has it all. 
Puerto Escondido (Oaxaca) is a destination you will fall in love with. With its eight magnificent beaches, it's a perfect spot to work your tanning, but more importantly to improve your surfing skills ! Indeed, Puerto Escondido is famous for its world class waves at Zicatela beach. All year long professional surfers are coming to challenge themselves by surfing Zicatela, which remains in the top 10 of the most dangerous waves in the world. But Puerto Escondido also offers beaches for intermediates in La Punta, and beginners at Carrizarillo beach !
Not interested in surfing ? Puerto Escondido has PLENTY of other activities and beautiful spots to enjoy with your family & friends. You can review all the adventures in Puerto Escondido on our tour listing page. These include releasing baby turtles in the sea, taking a boat tour at night to swim with bioluminescent plankton, having a horse ride tour on the beach, scuba diving & snorkeling, whale watching, dolphin watching, fishing, crocodiles watching, tasting mezcal, skydiving and many more.
Another popular thing to do in Puerto Escondido are activities that help balance your body and mind. You have a lot of yoga schools that offer indoor / outdoor lessons, public or private. You have natural hot springs in a village closeby, that are reputed for their benefits on health. Finally, you can hike in the mountains that are just half an hour from town.
As all of the amazing things to do in Puerto Escondido are not always close by, you might think about renting a vehicle to move from one place to another. You can rent scooters, motorbikes, quads and cars easily in town, or directly through our website in the "rental" section. In that case we will deliver the vehicle straight to your hotel / Airbnb.
Like any other touristic place, Puerto Escondido has a wide range of restaurants with different types of food. You can find Mexican food, Peruvian, Argentinian, and also European, as a lot of expatriates have opened businesses here. We invite you to check the availables restaurants in Puerto Escondido in our "food" section.
Finally, you will find information about where to stay in Puerto Escondido. Hotels, hostels, camping, glamping, are the options you have depending on your budget and the experience you are looking for.
We have established alliances with local partners in the area to guarantee you the best service and attention that you can find in Puerto Escondido.
We want you to focus only on enjoying this amazing place.