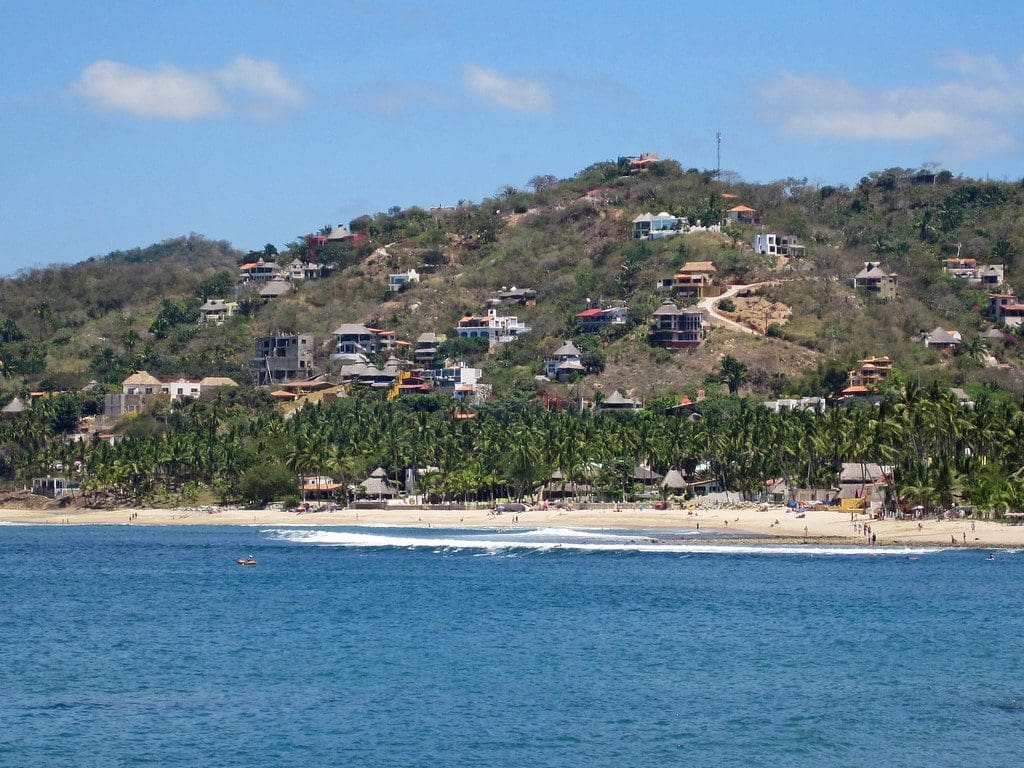 ¿Puerto Escondido or Sayulita?
Two coastal locations. Two beach destinations. Two towns facing the Pacific Ocean in Mexico. Two destinations chosen by tourists. Two surf spots: Sayulita and Puerto Escondido. What differentiates these two destinations? In this article we share the main characteristics of one and the other so that, when planning your vacation, you know which places in Mexico to visit.
From bottom to top, the first destination we come across is Puerto Escondido. A small town of surfers and fishermen that moves along the Pacific coast, in the state of Oaxaca, in the very south of the country. Its warm climate all year round attracts tourists from all over the world.
Puerto Escondido began its popularity as a destination chosen by foreigners for hosting the third largest wave in the world. During the summer months, the waves at Zicatela Beach can reach up to a maximum of 15 meters. This is why big wave surfers and lovers of this sport choose to vacation in Puerto and improve their surfing skills.
But its beauty is not exclusive to big waves and surfing. Little by little, different people were discovering this paradise and highlighting its richness beyond the Mexican pipeline. Its attraction is no longer hidden and its tourist activity has increased significantly due to the amount of activities and tours on offer.
Its main attractions include the quiet beaches of Carrizalillo, Coral, Puerto Angelito or Manzanillo. In addition, a few kilometers from the center, there is a lagoon that borders the sea, Laguna de Manialtepec, where activities such as bioluminescence, stand up paddle or observation of the local flora and fauna can also be carried out.
Other tourist activities such as boat rides to see whales and dolphins, release of sea turtles or walks through La Barra, stand out among the main attractions of this magical place in the south west of the Mexican country.
Tourist and surf destination, what distinguishes them from their northern cousin, Sayulita?
Sayulita
Sayulita is a small tourist town located in the municipality of Bahía de Banderas in the south of the Mexican state of Nayarit, on the shores of the Pacific Ocean. The State of Nayarit is located more than a thousand kilometers from the state of Oaxaca. This physical distance is perceived in the differences of its landscapes, ecosystems, flora and fauna.
Being located further north than Puerto Escondido, and due to its proximity to the northern countries, Sayulita is one of the main destinations chosen by American and Canadian visitors. This means that there is a strong presence of the Anglo-Saxon language and makes it a much less economical destination than Puerto Escondido.
Although Sayulita is also a surfing destination, its waves are not as famous as those in Puerto. In any case, it is a good destination to start in the sport and go into the sea.
Very close to the town of Sayulita is a small village called San Pancho, which is one of the main tourist attractions in the area. It retains its simplicity and rusticity in the sandy streets, and the few bars with dim lights and hanging coconuts.
Although it is not a large city, Sayulita is larger than Puerto Escondido and this makes it a destination with more gastronomic and nightlife options. It has positioned itself as a great place for entertainment and that is why the parties in this place have become famous.
The main downtown beach is the most popular but not the most beautiful. The Playa de los Muertos, for example, is usually a good option to escape a little from the noise of the center and enjoy it with greater tranquility.
In addition, behind Sayulita are the mountains of the Sierra Madre Occidental, which give a unique setting to the coastal landscape and create a very particular ecosystem to visit.
Another interesting feature to highlight about this fishing village is its artistic and bohemian air. Many local artists have established themselves in its streets, showing their art and creating an environment that mixes the beach with culture in a very natural way. A spectacular combo!
Two destinations located on the Pacific, each with its own atmosphere and particular style. Puerto Escondido or Sayulita, it will be up to you to decide which of the two you choose to visit.