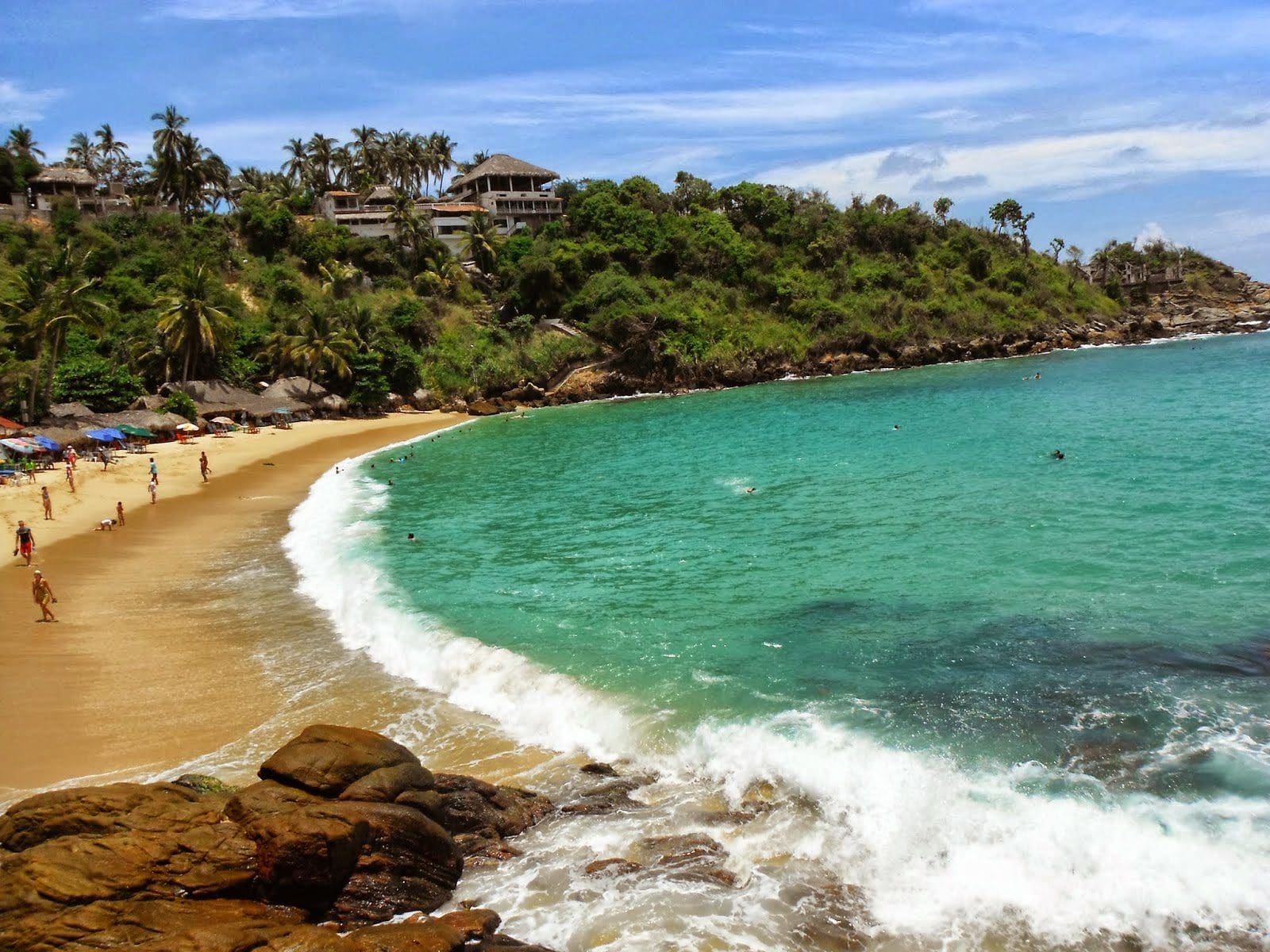 Bacocho beach and Coral beach
Puerto Escondido is one of the main tourist places today chosen by travelers from all over the world. And by learning about the different options it has to offer, you can understand why. It is not just a beautiful beach. Calm small beaches with crystal clear waters or open sea beaches with miles of sand, it has it all. You can choose which one best suits your tastes.
In this article we will tell you about two very different beaches, which are located next to each other, so you can visit them on the same day and fill your eyes with dreamlike landscapes.
Bacocho Beach
This beach is located on the outskirts of Puerto Escondido to the north in one of the most beautiful residential neighborhoods in the city. It is one of the favorites to spend the whole day enjoying a space just for you. Due to its large size, you can get through the day without being disturbed by anyone. Its sand is fine and is surrounded by vegetation. The sea on this beach is open so it is recommended to swim very carefully.
Ideal for exercising as well, many visitors flock to this beach to perform their morning training routines and then finish with a refreshing swim in the sea. But that is not all! This kilometer-long beach has a very special bonus: every day at 5:00 p.m. you can enjoy the turtle release show that takes place on this beach by the non-profit organization Vive Mar Bacocho. Whether you decide to participate as an observer or collaborate in the liberation together with other volunteers, it is without a doubt, an experience that you cannot pass up.
To access this beach you must do it by private vehicle or taxi since there is no public transport that will bring you closer to its entrance. Another option, if you like to walk, is to take the public bus to the Rinconada neighborhood and from there walk about 15 minutes to go down to the beach.
Coral Beach
Facing the sea from Playa Bacocho, on the left side, you will see a set of colorful rocks and beautiful textures that form the path that takes you to Playa Coral. On the contrary to Bacocho, Coral is a fairly small beach with calm and crystalline waters and turquoise colors.
Adorned by palm trees and some abandoned buildings, it is ideal if you do not have an umbrella since you can find shadows where you can take refuge from the intense sun of Puerto Escondido. This beach is one of the favorites due to its unmatched views. Adorned by a lush green cliff, framed by the turquoise sea and overlooking the extensive Bacocho beach on the other side, there is nothing to compare it to.
Because access to this beach is privatized, you will have to pay a price to access the Hotel that has the entry concession. Another option is to enter through Playa Bacocho and walk 5 minutes along the rock and sand path to Playa Coral. Don't be intimidated by the arrival because it is truly a place to enjoy.
Do not think that only Bacocho has a plus to offer. Coral Beach has it too! Do not forget to bring your visors to be ready if the turtle appears on the surface to breathe, if you are lucky you'll be able to spot it!
Now do you understand why we say that Puerto Escondido is not just a beautiful beach? With this information, you already know what other paradisiacal beaches you can visit on your way through this Oaxacan paradise.