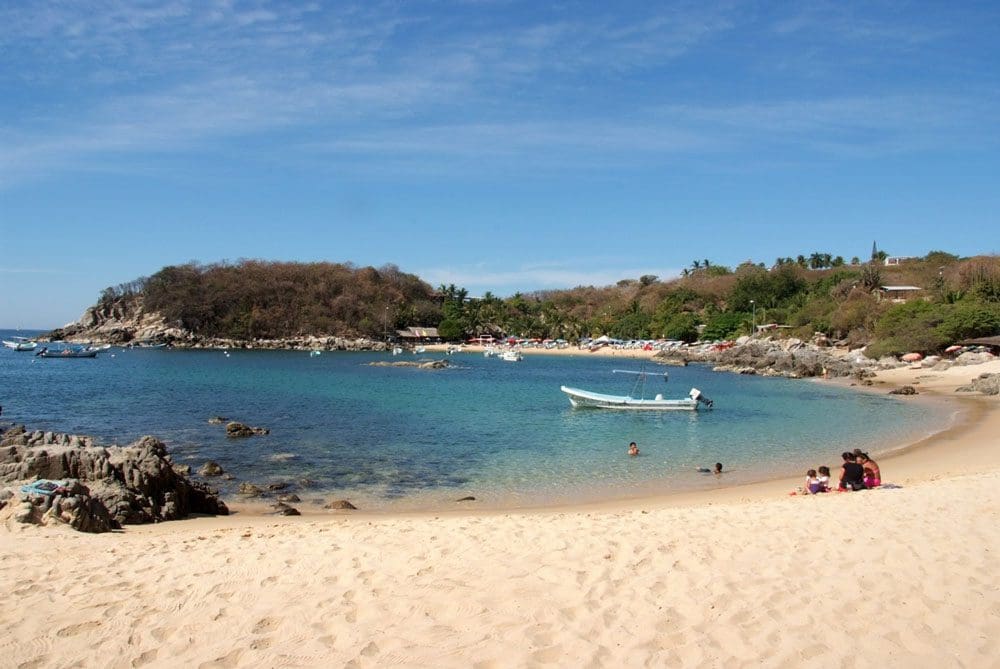 Manzanillo and Puerto Angelito Beach
Among the different options of beaches to know that the coastal city of Puerto Escondido offers, in the state of Oaxaca, Mexico, are the beaches of Manzanillo and Puerto Angelito.
These beaches have the particularity of being linked by a corridor that connects them. An ornate beach path that allows you to walk and visit both beaches in the same route. Facing the sea, on the left side is Puerto Angelito, while on the right side is Manzanillo.
There are not many differences that distinguish these beaches, but rather the location of each one. The most notable thing is that in Puerto Angelito there is a greater presence of boats and fishing boats. Whereas, Manzanillo is more accessible for swimming or snorkelling.
Both beaches have calm and transparent water as they are sheltered by a bay. This allows the swimming experience to be possible and not dangerous. In addition, they are ideal to rent or bring your own snorkeling equipment and lose yourself swimming among the rocks. There is a lot of coral and you will be able to see fish of all colors. Without a doubt, an activity that you cannot stop doing!
These beaches are the closest to the downtown area and are located between the Adoquín area and the Rinconada neighborhood. Just before Carrizalillo Beach. Its access is simple, it does not require much physical demand or time to visit them.
They are small beaches, adorned with palm trees and rocks, enclosed by cliffs and lots of vegetation. The landscape is very beautiful and one of their main attraction is their tranquility.
In general, the public that most visits these beaches are Mexican tourists or locals who live in Puerto Escondido. Although there may be foreign tourists, it is not the most abundant.
If you are interested in going into the sea and taking advantage of the whale and dolphin watching season, or, if you like fishing, you can take one of the tours offered by tourism agents who visit the beaches in search of new visitors. We recommend you take a boat ride at sunset time to enjoy the sunset over the sea.
Finally, it is important to know that there are a lot of gastronomic options so you don't have to worry about bringing your own food. You can check out the different food and drink options found along both beaches. Ideal to take advantage of to taste fresh fish or seafood from the area.
Playa Manzanillo and Puerto Angelito offer a perfect combination of local culture, calm waters and memorable landscapes. A must in your visit to Puerto Escondido.