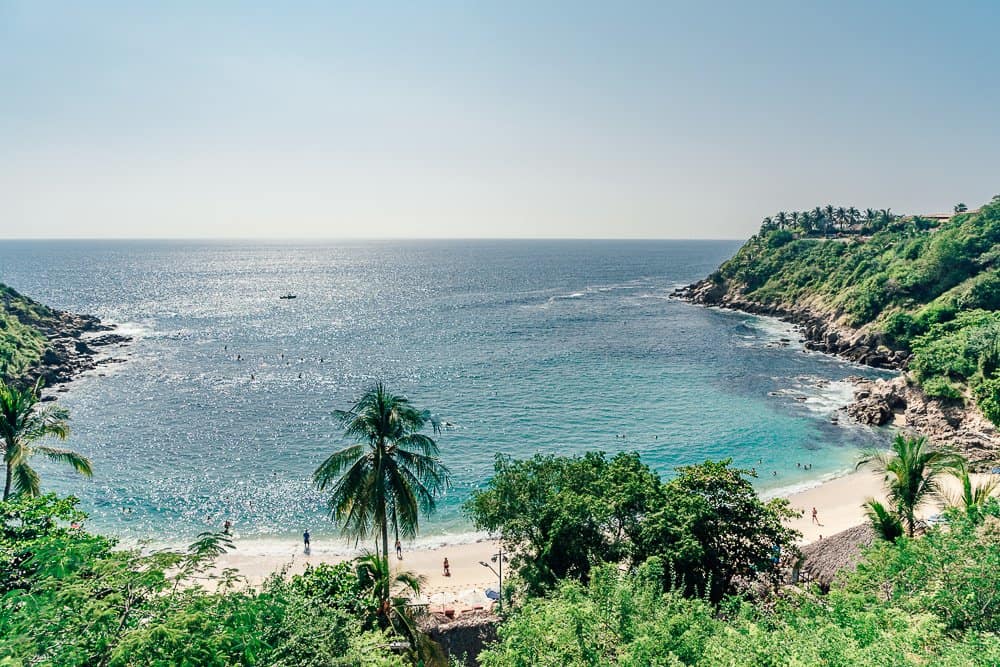 Carrizalillo Beach
If you plan to visit Puerto Escondido, it will be useful to know about the different beaches that you can visit during your stay in this paradise of the Mexican Pacific.
Although Puerto Escondido is generally associated as a place for surfing and big waves (since Zicatela is the third largest wave in the world), there are also other options for quieter beaches where you can go to relax without having to take care that a wave overturns you.
One of the calmest beaches and preferred by tourists visiting Puerto is Carrizalillo Beach. It is located in the Rinconada neighborhood, a few minutes from downtown.
Access to this beach is not the simplest since to get there you have to descend a staircase of several steps. So it is important to consider this point when choosing to visit it. The views from the beginning of the path are not wasted! From above you can see the bay that leads to the beach, the cliffs that surround it and the palm trees that adorn the landscape. Don't forget to bring your camera!
Once you descend the steps, you arrive at the beach to enjoy its calmer waves, its transparent waters and why not, a very cold beer looking at the sea. There are several places to eat and drink something, you can also take a surf lesson (this beach is recommended for learners) or choose to swim and explore the marine life that inhabits the rocks. We recommend you wear a mask or rent one to appreciate the different fish, colors and turtles that live in Playa Carrizalillo.
An important fact to keep in mind is that there is not much shade space (unless you consume something in a restaurant and have access to the shade of their parasols). So try to go in hours where the sun does not hurt you or bring your own shadow.
As we mentioned before, if you are interested in learning to surf, this is the right place since its waves are calm and friendly. You can go with your own surfboard or choose to rent one on the spot. Whatever the option, try to do it with someone who knows so as not to hurt yourself.
Finally, the Rinconada neighborhood where this beach is located, is also very nice to finish your walk in the area there. There are many dining options to sample. Signature cuisine, seafood, pizza, vegan, etc. The complete plan: a day at the beach in Carrizalillo plus dinner in Rinconada, perfect combo!
So, if you visit Puerto Escondido and want to know every corner of this beautiful place, you cannot help but be delighted with the colors and views of Carrizalillo Beach.