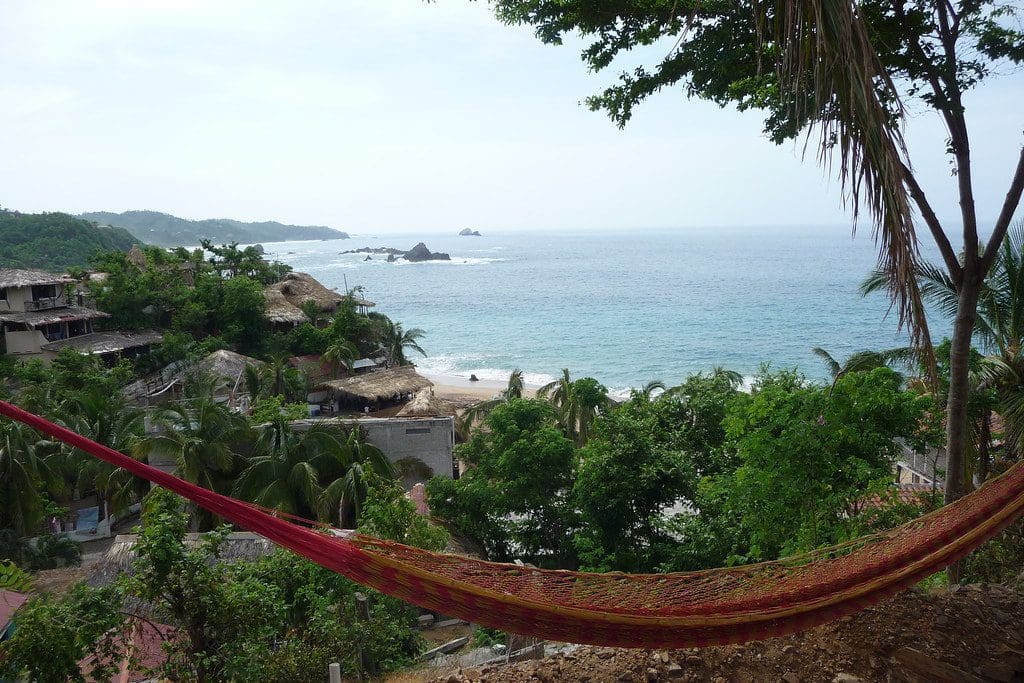 How to go from Puerto Escondido to Mazunte
Although Puerto Escondido is one of the most popular destinations chosen by tourists when visiting the coast of the State of Oaxaca, it is not the only one with interesting attractions to visit.
Paradise beaches and magical towns can be found along the entire Pacific coast of Oaxaca. Of course, if you have a few days to explore the area, it is always better to base yourself in a larger town and from there get to know the surroundings.
A good option then, when planning your vacations, is to choose Puerto Escondido as the base town (for all the attractions, beaches and activities that we have mentioned on other occasions) and from there move around to get to know other areas of the coast.
Very close to the surfer's paradise, there is a magical town due to its size and particular energy. This place is called Mazunte. It is said that its name is derived from the Nahuatl phrase "maxotetia" which means "please lay eggs here." This magical town chosen by turtles for years to spawn, is only 67 kilometers from the popular Puerto Escondido.
How to go from Puerto Escondido to Mazunte then?
You have several options. The first, easiest but most expensive is to rent a car. This will allow you to have independence, stop as many times as you want on the road and move slowly. It will take approximately 1 hour to arrive and you can check the different rental options here: Car and motorcycle rental in Puerto Escondido.
Similar to the previous one, but cheaper and a little more adventurous is to rent a scooter. Scooters are very common in the area, they are cheap to rent but you have to be careful since many of the streets are sandy or not paved. If you feel confident, it can be a great option since it allows you to reach places where the car cannot enter. The duration of the trip can be between 1.5 hours and 2.5 hours.
A last private transportation option may be to take a taxi. The cost can vary between $ 800 and $ 1100 depending on the time of year and the number of passengers. This option is expensive but saves you the time of renting a vehicle and ensures you get to your destination quickly.
Now if you do not have enough budget to rent your own vehicle, or take a taxi, and you are one of those who prefer to mix with the local culture and have a more traveling experience, you can go to Mazunte from Puerto Escondido by public transport. Although it seems complicated, it is simple and you will see that anyone you consult will know how to respond with kindness.
First, you must head towards the main road. From there you must wait for the bus on the way to Pochutla to pass. The cost may vary depending on the season but is around $ 20mx. When you get on, you ask the driver to let you know when you have to get off to go to Mazunte. The bus will not leave you in the town since to get there you will have to take another transport. The bus will drop you off in the town of San Antonio, which is the one on the road. From there you have two options: wait for another public bus to take you to the town (approx 10km) or take a taxi. Depending on the time you have, you will know how to choose which alternative is best for you. Obviously, the bus will be cheaper. But the taxi, if it is shared, can end up at the same price.
Finally you will take this last transport that will leave you in the town of Mazunte. Keep in mind that to return, public transport stops working after a certain time. Consult before planning your return so you do not stay halfway back. This information is not important if you move in your own vehicle.
If you decide to take the public transportation option, it will take approximately 2 to 3 hours to get from Puerto Escondido to Mazunte. Take this information into account since, if you decide to go for the day, it will be convenient for you to leave very early to be able to enjoy your stay in the magical town of Mazunte.
Once at the destination, there are some activities that you can do. First, and as we always recommend: walking and getting lost in the streets of the place is the best option to discover a new destination. Let yourself be surprised by the coffee shops, the murals and the local vegetation. Flowing with the rhythm of an unknown place is the best way to awaken our curious spirit and get to know the destination in depth.
Mazunte has a very different beach from Puerto Escondido. It is much smaller and, being a small bay, its water is calm. It is ideal for swimming, relaxing and resting. On the beach you have different palapas, restaurants and rental of umbrellas that you can rent so as not to hurt yourself with the sun.
After enjoying the beach, the calm sea and some delicious coastal seafood, you can go to Punta Cometa to appreciate a sunset like no other. This is the most popular point in Mazunte. It consists of walking down a cliff, lasting no more than 10 minutes, until you reach the perfect point where you can see the sun go down over the sea. The views will blow your mind. Kilometers of open ocean, panoramic views of the beaches, and the sun that perfectly hides behind the sea. A magical experience, worthy of a magical town.
Finally, you can choose one of the many places to dine in town and end the day with a happy toast. There are options for all tastes and a gastronomic offer of the best quality.
We hope that our recommendation on how to go from Puerto Escondido to Mazunte has been useful to you and you can get to know this magical place.