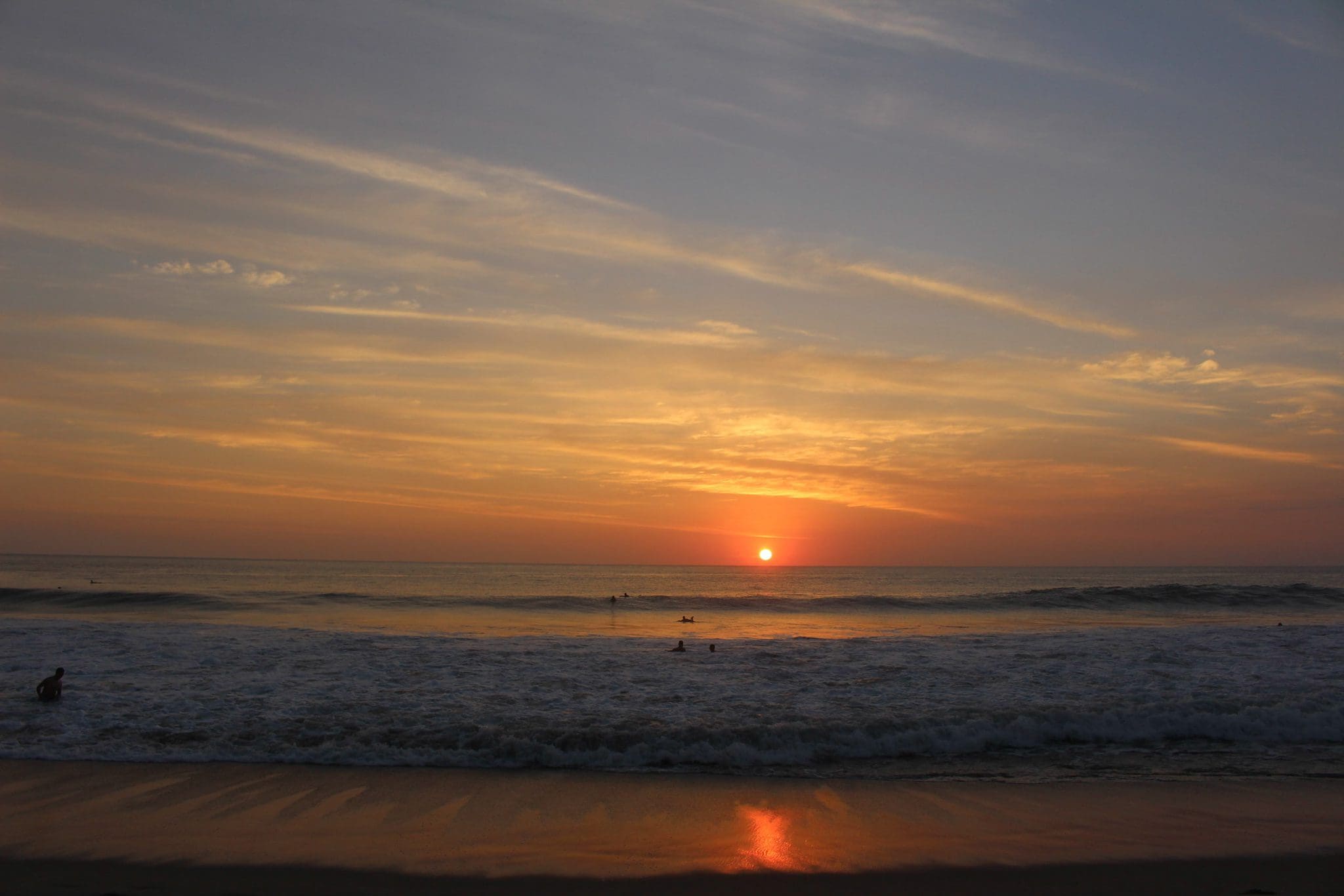 Top 5 beaches around Puerto Escondido
Did you know that the state of Oaxaca (where Puerto Escondido is located) has 482 kilometers of coastline? This means that coastal and beach landscapes abound in this area.
Especially in the city of Puerto Escondido and its surroundings, you can find the most beautiful beaches for going for a walk and sightseeing.
From the biggest waves for advanced surfers, to clear waters for snorkelling or diving, everything can be found in this increasingly popular tourist destination.
Here we will tell you about our top 5 beaches to visit in Puerto Escondido and its surroundings.
---
1. Coral Beach
A little hidden paradise. Although accessing this beach is not the easiest thing to do, it is worth the adventure to reach this piece of sand. Its tall palm trees that frame the beach, combine perfectly with the bay of turquoise and transparent water.
To get to this place, you must go to Bacocho beach (which is right next to it). And from there walk to the left (looking at the sea), cross the stone path, and you will arrive at Playa Coral. The road is itself an attraction.
The half-abandoned hotel behind the beach, plus the path to travel to get there, give a feeling of mystery and adventure when visiting this small beach in Puerto Escondido.
A plus of Coral is the presence of palm trees, that allows you to have shade throughout the day. Ideal to load your cooler and settle down to enjoy the tranquility of this beautiful beach.
Color fact: it is said that there lives an old turtle, that if it feels comfortable, it comes to swim with the visitors. Don't forget to bring your mask and snorkel!
---
2. Carrizalillo Beach
The classic paradise of Puerto Escondido. Located near the downtown area, in the Rinconada neighborhood, Playa Carrizalillo is the must-see of Puerto.
To access the beach you must descend a staircase of 169 steps. Don't panic, I assure you, the view is worth it! From above, before going down, I recommend that you take a few seconds to appreciate the symmetry of the landscape and the different shades of green that are observed. Simply stunning. This view will give you the breath to descend (and then climb) the particular staircase of Playa Carrizalillo.
It is one of the smallest beaches in the area, so it is ideal not to visit it on holidays or weekends. If you have an umbrella, I advise you to take it with you since you will not find many places on the beach where you can hide a bit from the intense sun of Puerto Escondido.
This beach is also ideal for those who are learning to surf as it offers small and not very dangerous waves. Not only that, if you are more inclined to snorkel, it is also a beautiful place to practice, since it has several corals close to the rocks to investigate and appreciate marine life.
Finally, you can bring your own provisions or choose one of the several restaurants present there to recharge your batteries and refresh yourself after some beautiful sea baths.
---
3. Mazunte
Leaving a little from Puerto Escondido, just 65km down the coast to the south, we find this small magical town on the Oaxacan coast.
Still not so popular and simply beautiful, Mazunte is famous for its sea turtles, due to the large number of turtles that choose this destination to lay their eggs.
Its proximity to Puerto Escondido and its easy access, make Mazunte a must-see destination when visiting Puerto. You can go and return in the day, using the public transport offered or renting a scooter or car, according to your preferences and economic possibilities.
Whichever way you decide to visit Mazunte, I recommend that you don't miss the sunset at Punta Cometa, the iconic viewpoint to appreciate the sunset over the Pacific. Fact to take into account: to access it, you have to travel a path uphill, ideal for adventurers and trekking enthusiasts. The views are worth it!
If you decide to stay a few days in this town, you can also visit the nearby beaches such as San Agustinillo, Mermejita or Escobilla.
When we describe Mazunte as magical, we are not mistaken since it was declared a "magical town" in 2015 by the Ministry of Tourism (SECTUR).
Checkout our article on how to go to mazunte from Puerto Escondido !
---
4. Zipolite
Just 7km from Mazunte, is the Zipolite nudist beach. A small oasis on the Oaxacan coast.
With its little more than 1000 inhabitants, this beach has become the best known nudist beach in the state of Oaxaca. The practice of nudism dates back several decades. In 2016 it hosted the Latin American Naturism Meeting.
With approximately 2km in length, Zipolite Beach has several options for tourist attention, such as bars, restaurants and palapas to rest from the sun.
Despite being a nudist beach, it is not a requirement to practice nudism to enter. But if you dare to do it, it is a unique experience of freedom that I recommend you do.
---
5. Chacahua
54km from Puerto Escondido, near the town of Zapotalito, is the Lagunas de Chacahua National Park. Or better known as "Chacahua, tropical paradise", when you visit it, you will understand why.
The Park covers more than 130 thousand square kilometers. It is made up of large and small lagoons and channels that connect the different water sources to each other.
To access Chacahua beach it is necessary to take a boat since it is not possible to access by land because it is surrounded by water. The road is simply stunning, channels surrounded by mangroves and abundant vegetation.
The beach is long and almost deserted. If you want to improve your surfing skills and are looking for a place to practice with few people, Chacahua is ideal. Its friendly and constant wave allows you to practice daily.
In addition, Chacahua is characterized by the warmth and simplicity of its inhabitants who, when buying a plate of food, allow you to camp on their grounds, on the sand, by the sea.
Few people visit this paradise and here we recommend that you be from that minority, since the place has no waste. 
---

Whichever order you decide to visit these beaches, we hope that our top 5 beaches around Puerto Escondido will help you to enjoy even more the variety of landscapes and seas that Puerto Escondido has for you.