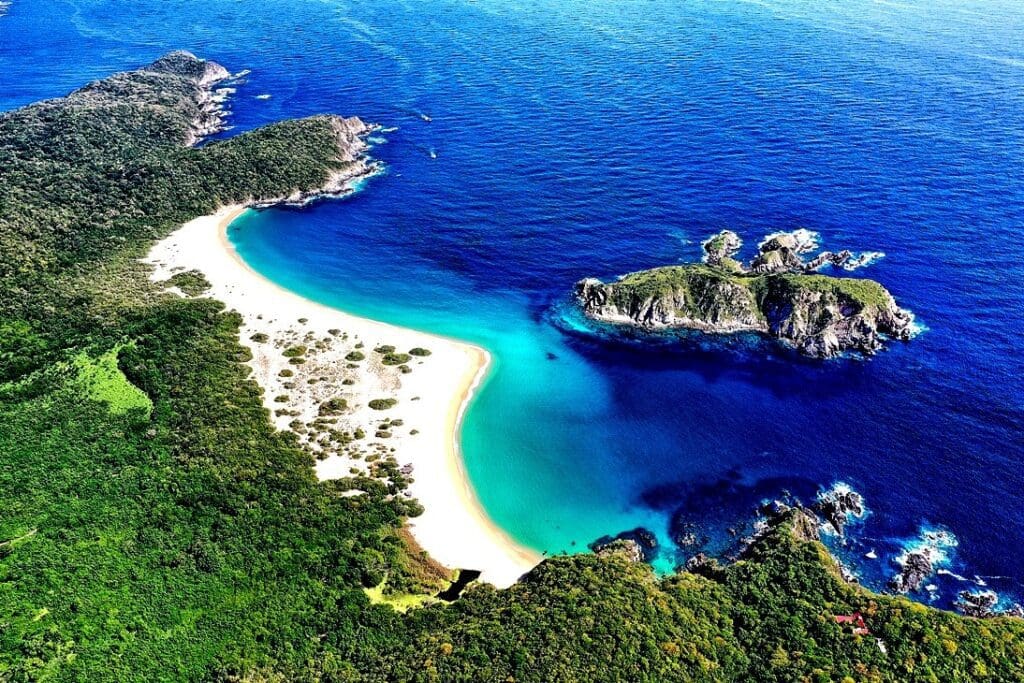 Huatulco or Puerto Escondido?
Mexico has more than 7,800 kilometers of coastline that overlook the Pacific Ocean and the Gulf of California. And this only on one side! If we count the kilometers of coastline that overlook the Caribbean Sea and the Gulf of Mexico, we are talking about more than 11,000 kilometers of pure sea, beach, palm trees and dreamlike landscapes.
How to know which beaches to visit with so many kilometers of coastline?
It is normal to feel overwhelmed having so many options to choose from and decide to spend a few days on vacation. For this reason, it is important to know in advance the differences that exist between the different tourist areas for vacationing. In this article, we will focus on telling you about two tourist cities on the Mexican Pacific coast, belonging to the State of Oaxaca: Puerto Escondido and Huatulco.
Huatulco
Its name comes from Nahuatl: Kwahtolko, and means: "Place where the wood is worshipped". With more than 50,000 inhabitants, it is the most important city in the tourist area known as the Bahías de Huatulco. There are nine bays that draw the attention of tourists from all over the world, but mainly locals, to be visited: San Agustín, Chachacual, Cacaluta, Maguey, El Órgano, Santa Cruz, Chahué, Tangolunda and Conejos.
The bays also add up to a total of 36 charming beaches to visit. Although there are beaches for surfing, it is not the main sport. But you can do other water activities such as kayaking, boat rides, snorkeling and diving, among others.
In addition, another great tourist attraction in the Bahías de Huatulco area is its waterfalls, there are two in particular that are the most popular: the Llano Grande Waterfalls or the magical Copalitilla Waterfalls.
On the other hand, the city presents an interesting cultural and historical wealth to appreciate. There are several museums and spaces for local handicrafts, especially those made of clay, which are highly attractive due to their originality.
And if we are talking about the State of Oaxaca, it is impossible to ignore its mezcal: Huatulco has activities that you can do to visit and taste different mezcalerías in the area.
This destination located at the end of the Sierra Madre del Sur, which covers 35,000 kilometers of the Mexican Pacific coast, surrounded by mountains, slopes, valleys, rivers and seas, is still somewhat hidden from the masses of tourism. A good option to enjoy a few days of tranquility and pure nature!
First cousin of Huatulco, located 109 kilometers to the north, also belonging to the State of Oaxaca, we find the well-known Puerto Escondido. City that has gained great popularity in the last two years for its varied and different attractions.
This port, popular mainly for the quality of its waves and their size, attracts not only surfers from all over the world, but also anyone who wants to vacation in a beautiful coastal city finding tranquility but also a lot of tourist movement.
Puerto Escondido has approximately 7 different beaches, for all tastes. The surfer and wider beach: Zicatela; the popular Punta de Zicatela; those of calm sea: Puerto Angelito, Manzanillo and Carrizalillo; and the wildest and most remote: Bacocho and Coral.
But, in addition to its dazzling beaches, Puerto Escondido is known for its vibrant nightlife and its popularity among young people. Its relaxed and chill vibe invites young people from all over the world to spend a few good days on the beach, toasting with the "chela and mezcal" combo, every night.
The gastronomic offer of this coastal city is varied and of high quality. There are quieter neighborhoods, ideal for families, and all kinds of accommodation to choose from.
In addition, the surroundings of Puerto are also of great interest: Laguna de Manialtepec, where you can appreciate the phenomenon of bioluminescence, boat rides to see dolphins, whales and turtles, horseback riding through hot springs and, of course, you will also find good mezcalerías to taste.
Both Puerto Escondido and Santa María de Huatulco show the richness and diversity that the State of Oaxaca offers to anyone who wants to know and enjoy it.
What will be your next destination?