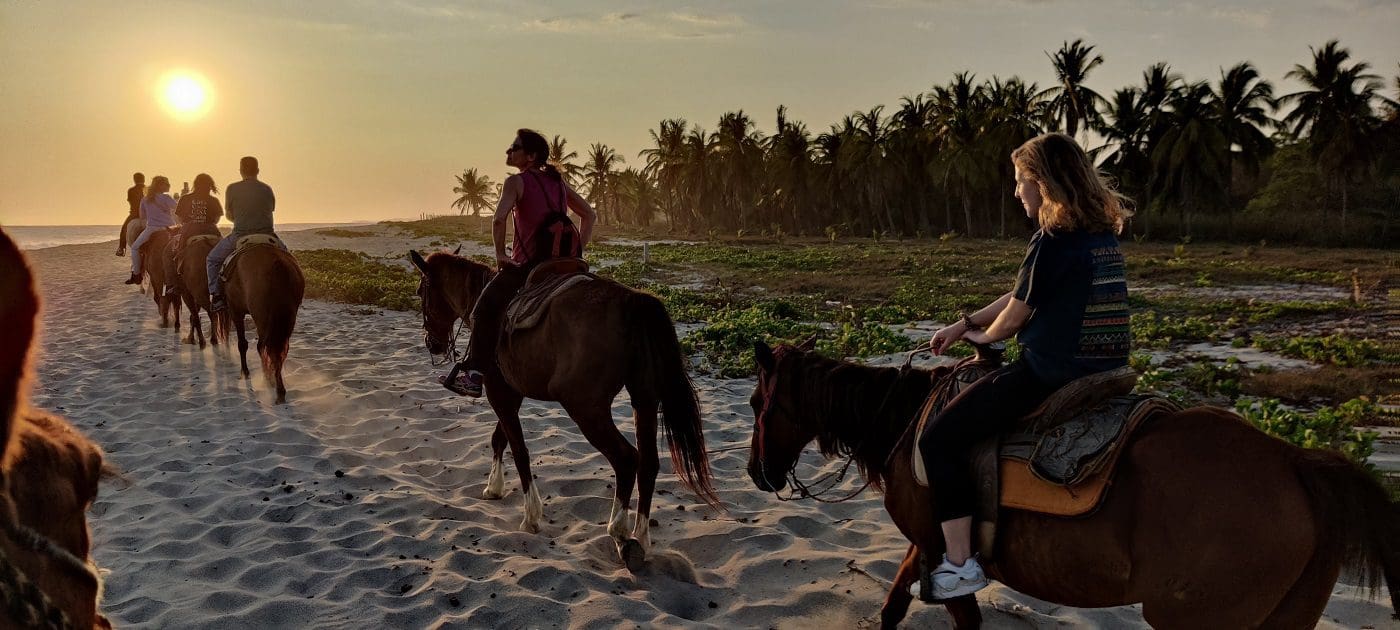 Best places to do horseback ride in Puerto Escondido
If you are one of the people who loves nature, adventure and being in contact with animals, then surely you have considered doing a horseback riding activity on your next vacation. And if it is not yet within your options, then surely by the end of this article, it will be.
Most people believe that tourist places that have a beach or face the coast only offer activities related to the sea and water sports, or nightlife. However, it is not really so.
CLICK HERE TO BOOK YOUR HORSEBACK RIDING TRIP !
For example: Puerto Escondido, one of the main tourist destinations on the Mexican Pacific coast, in the state of Oaxaca. Although it is true that its main attractions are the beaches and surfing (due to the size of its waves), there are many activities that can be done to enjoy this wonderful destination that go far beyond relaxing on the beach (although it is not bad if you decide to spend your vacation that way).
We know that there are many people who are restless and who like to stay active, even during their days off. For this reason, here we will tell you about one of the activities that has become popular among tourists who visit Puerto Escondido: horseback riding.
As romantic as its name indicates, horseback riding along the beaches of this paradise is an activity that will easily remain in the hearts of those who do it. Depending on the area you choose to make your pass, it will be the duration of the activity and its characteristics.
CLICK HERE TO BOOK YOUR HORSEBACK RIDING TRIP !
In Puerto Escondido, there are different options that you can select, according to your tastes and interests. Here we tell you the main characteristics of each tour, so that when choosing, you can have all the relevant information:
Horseback ride on the beach of Zicatela and La Punta
One of the most popular due to its easy accessibility and short duration: horseback riding for an hour, enjoying the sunset. Previous experience in horseback riding is not required, nor is it necessary to be too adventurous since the ride takes place along the beach with the company of a guide. Ideal for romantic couples or families with children.
Complete experience: visit the Manialtepec Lagoon and enter the mangroves to discover its flora and fauna. The horseback ride through the Manialtepec Lagoon lasts approximately 3 hours and includes going through different areas and ending up enjoying the sunset at the point where the lagoon meets the sea. Quite a breathtaking experience!
Horseback riding in La Barra de Colotepec
If you liked the idea of ​​horseback riding on the beach, but prefer a little more privacy, this may be a good option. La Barra de Colotepect is located after Zicatela beach and is one of the favorite places for those who like solitude and tranquility. There are very few people and you can enjoy a pleasant horseback ride by the sea with the best company.
Horseback riding in the river and hot springs
Finally, if you prefer fresh water, a good option may be to enter the La Bomba river, together with a guide who will take you approximately 4 hours through green trails, bordering the water of the River. Then, you will arrive at some natural pools of hot springs where you can enjoy a revitalizing natural bath. 
CLICK HERE TO BOOK YOUR HORSEBACK RIDING TRIP !
As you can see, Puerto Escondido is not just a pretty beach. If you like animals and enjoy different experiences, definitely take a horseback ride through some of the options that we previously described, it has to be on your list of activities on your next visit to the Oaxacan paradise.