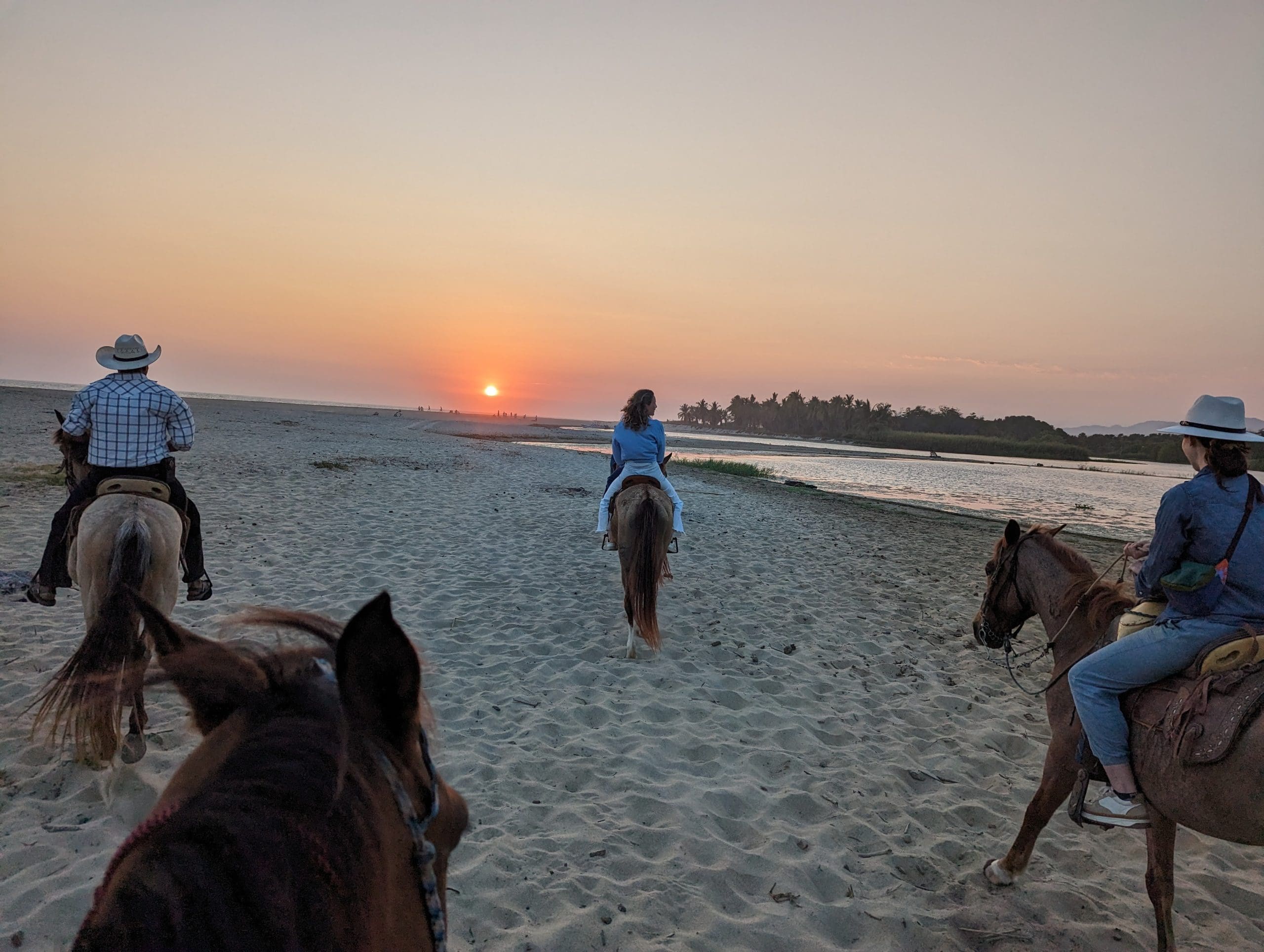 Experience the Magic of Sunset Horseback Riding in Puerto Escondido
Hey there, dear readers! I want to share with you an incredible adventure I had in Puerto Escondido, Mexico. This town has a special rhythm of its own, mixing peaceful beaches with a lively culture that left a lasting impression on my adventurous spirit.
From the awesome waves at Zicatela Beach for surfers to the calm seaside restaurants along the coast, every part of Puerto Escondido has its own charm. But there's one experience that truly shines like a hidden gem waiting to be discovered and cherished – Sunset Horseback Riding.
Imagine this: riding along the stunning shores of Puerto Escondido on a majestic horse, while the sky turns shades of romance as the sun sets. When we reach the beach, a cool breeze welcomes us. We ride right up to the waves, as they playfully dance on the shore. With the radiant sunset and the rhythmic hoofbeats – it's pure magic!
This captivating blend of Puerto Escondido's scenery and equestrian culture creates a mesmerizing spectacle that takes you far from the ordinary. The raw beauty of nature combined with the joy of a horseback ride makes for an unforgettable journey, creating memories to cherish forever.
Understanding Puerto Escondido
Dive into the Vibrant Culture and Rich History of Puerto Escondido
As I walked along the sun-soaked streets, I got a taste of the true heart of Puerto Escondido – its culture. The city is alive with a lively cultural scene that adds enchanting colors to this Mexican paradise. The laughter in the air, the friendly locals, and the traditional tunes all around breathe life into this town, adding to its magnetic charm.
No visit to Puerto Escondido is complete without delving into its rich history. From a small fishing village to one of Mexico's top destinations, every corner has a story to tell. This little piece of paradise is more than just beautiful views and horseback tours Puerto Escondido offers.

Explore its Majestic Beauty and Unique Attractions – A Perfect Holiday Spot
Puerto Escondido is more than just its horseback beach tours or captivating sunset rides Puerto Escondido is famous for. A range of experiences awaits those who seek them. Nestled between the ocean and the mountains, the scenery here is breathtakingly magical. Everything from the turquoise sea to the rugged cliffs, from fascinating wildlife to lush palm groves, showcases Mother Nature at her best.
The beaches here are a wonder to behold. Each one caters to different tastes – whether you're relaxing in the sun, enjoying water sports, or going for a beach horseback ride. Playa Principal, the namesake beach, is the heart of the town, full of activity, while Playa Carrizalillo offers a peaceful spot for some downtime.
The Bio-luminescent Lagoon, the local market, and the Mexican Pipeline surf spot are just a few of the many attractions that make Puerto Escondido an ideal holiday spot. The city is packed with plenty of unique experiences that cater to everyone from thrill-seekers to honeymooners to history buffs. From Mexico horse trails to guided horseback excursions, Puerto Escondido is a treasure trove of beauty, excitement, and adventure.

Brushing Strokes on the Canvas of Sunset Horseback Riding
Detailed Narration of My Personal Experience with Sunset Horseback Riding
Of all the activities Puerto Escondido had to offer, sunset horseback riding was one that captured my attention and fascination right from the start. Trying out horseback tours in Mexico, especially in a place as beautiful as Puerto Escondido, was an experience I was eager to dive into.
My adventure with Puerto Escondido equestrian journeys began with a warm introduction to my noble companion, a chestnut horse named Canela. Her calm and patient nature added a soothing touch to this guided horseback excursion. As I climbed into the saddle and started our equestrian adventures in Mexico,
I felt an incredible sense of freedom and excitement.
The picturesque landscape made this Puerto Escondido sunset horseback ride even more dreamlike. Riding Canela, we traveled along the scenic trail, the rhythmic, gentle movement of the horse perfectly harmonizing with the rustling palm fronds above and the gentle crash of waves on the shore.
Outline of the Journey Along the Beach, Reveling in the Picturesque Sunset Views
The journey took us along stunning, untouched beaches and immersed us in the vibrant local life. We wandered through charming cobblestone streets and across wind-kissed sand spotted with coconut palms, giving us a panoramic view of coastal life in Mexico.
The highlight of these equine trips, Puerto Escondido is famous for, was the mesmerizing sunset. As the setting sun began bathing the land with its departing rich hues, I felt a sense of astonishment wash over me. I was privy to a celestial presentation that combined the tranquil sea, a beautiful horse, and the brilliance of a stunning sunset. An experience the likes of which words barely do justice.
This sunset ride Puerto Escondido offered me seemed more like a dream than a reality. And as the last light of the sun touched the horizon, bathing Canela and me in a soft, warm glow, I felt an unspoken bond with nature and the world around me. It's a sensation, so profound, something that still lingers with me, becoming part of my cherished memories.

Unveiling the Magic
Unraveling the Sensations and Emotions Felt During the Ride
The sensation of sunset horseback riding in Puerto Escondido transcends the usual riding experiences Puerto Escondido, or any other location, generally offers. There's an inexplicable magic to it that's hard to articulate but powerful enough to touch the very depths of your soul.
As I rode Canela along the sandy shore, feeling the rhythm of her canter sync with the muffled sounds of the ocean waves, I was overwhelmed with a deep sense of tranquility and appreciation. Each stride elicited a shot of elation and peace, reinforcing my understanding of the famous relationship between horse and human. It was not merely beach horseback riding; it was a sublime journey through the lap of nature, a monumental experience that stayed etched in my memories.
The emotions ran wild yet tamed, intense, but not overwhelming – a coil of feelings that unraveled with the magnificent Caribbean sunset. The equestrian sunset experience enveloped me in peace, and for the first time in a long time, I felt genuinely content.
Expressing the Transformational and Tranquil Aspect of the Experience
The Puerto Escondido equestrian journeys have a transformative quality unique to them. As I ventured on horseback tours Mexico, in particular, Puerto Escondido, promised and delivered, I found my perspective shifting, learning a new appreciation for nature and its marvels. It was no longer about reaching a destination; each moment became a journey in itself.
The tranquil aspect of this equestrian adventure in Mexico was another remarkable factor. There's an inexplicable calm that settles upon you during those coastal horseback tours, a calm so pervasive that it seizes every hovering worry, every buzzing ounce of your anxiety.
As the sun made its final bow for the day, the tranquillity that washed over me was unparalleled. I watched the sky metamorphose into a canvas of twilight hues, the air growing crisp and tide receding, mirroring my worries. Amid the sea's constant hum and the sky's quiet symphony, I found an oasis of stillness. And I understood why these sunset rides in Puerto Escondido are more than just horse treks on a Mexico beach; they are experiences that stay with you, redefining your understanding of beauty and tranquillity.

Wrapping up the Sunset Adventure
As I reflect on my journey in Puerto Escondido, it's clear how the sunset horseback ride was not merely a part of the trip; it became the essence of it. From immersing myself in nature's charm to forming a beautiful bond with Canela, every moment spelled pure joy. This experience was more than a guided horseback excursion; it haloed my trip with a golden light, wrapping up my journey into a beautiful story to be told, and retold.
While the vibrant culture and rich history of Puerto Escondido left me intrigued, and its beauty made me fall in love, the Puerto Escondido horseback riding adventure was the souvenir of joy that I carried back with me. The tranquil experience was much more than a horseback ride along the beach; it was a spiritual journey that calmed my soul and opened doors to deeper self-realization. In essence, it was one of the most profound equestrian adventures Mexico offered me.
If you ever find yourself in Puerto Escondido, I implore you to let go of any hesitation and embark on the magical equine journey. Engage in the Puerto Escondido sunset horseback ride and bask in the ethereal beauty of the Mexican coastline touched by the enchanting hues of the setting sun. Trust me, whether you're a seasoned browser of Mexico horse trails or a curious beginner, this sunset ride will gift you a lifetime of precious memories.
So, here's to the magical blend of sunsets and horse treads, to the ethereal beauty of Puerto Escondido, and to the ride of a lifetime that waits for you there. Let the allure of Puerto Escondido and its magnificent horseback adventures captivate your heart. For once you embark on this journey; you carry back not just memories, but experiences that last a lifetime.
Embracing the Magic of Puerto Escondido
As I look back on my enchanting adventure in Puerto Escondido, I'm filled with the joy and tranquility that marked each moment of this journey. Taking the equestrian