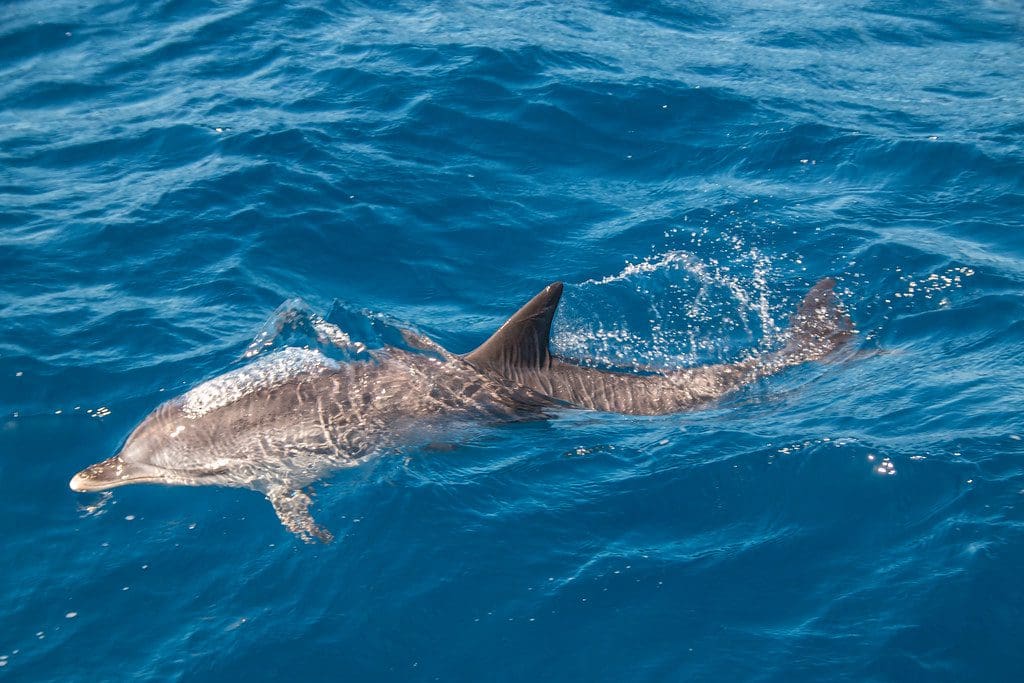 When is the best time to see dolphins in Puerto Escondido?
Did you know that more than 80% of the oceans remain unexplored by humans?
We have been to the Moon more times than to the bottom of the sea. This is due to the complexity of underwater mapping.
Fortunately, the 20% that we do know and have been able to explore, has been a great wonder for us to learn about and admire the ecosystems that are housed in the deep waters that surround our homes.
From what we know, it is known that there are approximately 130,000 species of living beings that are part of marine biodiversity, according to the Ocean Biodiversity Information System (OBIS). There is still a third of this number that is not known.
Being able to get up close and have direct contact experiences with the species that we do know is a wonderful opportunity. There are many places (particularly coastal sites) that allow tourist activities to get closer to marine biodiversity and enjoy its beauty.
An example of these places is the coastal jewel of the south west of Mexico, in the state of Oaxaca: Puerto Escondido. Especially known for its waves for surfing, Puerto also offers a variety of activities related to the sea that do not imply having the skills to get on a board.
With endless options to have fun and get to know the local flora and fauna, this surfing but also fishing city offers the opportunity to go into the sea with a local guide in his boat. These magical boat rides that usually take place very early at dawn or late at night for sunset, have become a great tourist attraction in the area.
What makes these boat rides so special?
Well, the opportunity to come up close to the local marine fauna. In particular, when doing this tour, it is possible to see whales, turtles and dolphins. Of the 20% that we do know and consider to be the most beautiful in the ocean!
Dolphins are one of the most intelligent animals on the planet. Generally, they are also one of the marine mammals that have the most interaction with humans. They usually walk in herds and near the coasts. They have a fun, cheerful and friendly demeanor. It is common to see them jump, spin and play with each other.
Imagine being able to enjoy all its skills and beauty up close. Quite a show!
Unlike the whales, which only pass by along the coast of Puerto Escondido between the months of November to March, dolphins parade all year round. Lucky! No matter what time of the year you decide to visit Puerto Escondido, whatever your decision and possibility is, you have to know that you can take the boat ride and connect with these magical wild creatures.
There are five types of dolphins that are frequently seen in this part of the Pacific Ocean: pink dolphins, bottlenose dolphins, tropical spotted dolphins, common dolphins and spinner dolphins. Do you dare to try to identify them?
The feeling of being close to these animals and experiencing their daily life is truly wonderful. It is important to remember the security measures suggested by the Semarnat (Secretariat of the Environment and Natural Resources) to preserve the conservation of these animals and to continue enjoying their passage through the Oaxacan coasts.
Some basic tips: don't get too close with the boat, don't spend too much time around the dolphins, don't interfere with their journey, don't feed them food other than what the guide suggests, and don't get too close.
Marine life is a beauty that is worth knowing. So, if you plan to visit Puerto Escondido, do not forget to take the boat ride to see dolphins up close and add an unparalleled experience to your vacation.