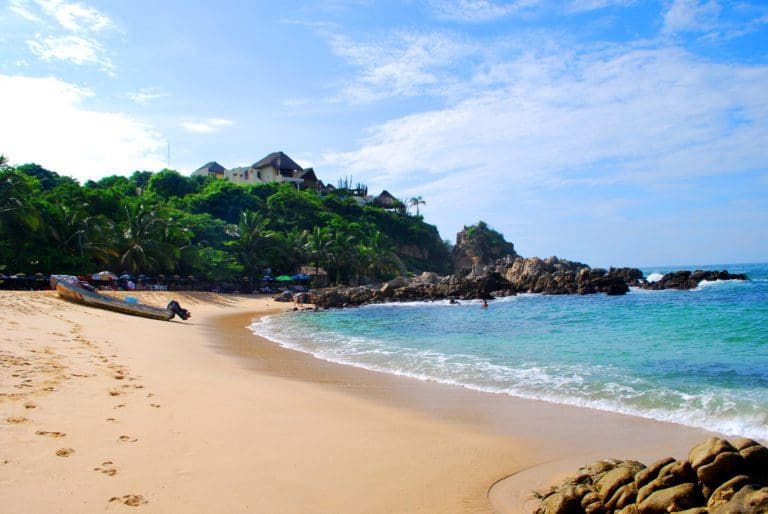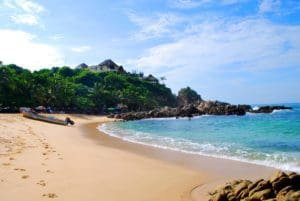 Without a doubt, one of the most appreciated places by tourists who visit Puerto Escondido is Playa Carrizalillo! You may wonder why this happens and it is that only by visiting this beach once, you will understand.
Playa Carrizalillo is located in the Rinconada subdivision. This particular neighborhood is located between the center of Puerto Escondido and the sea. It is a subdivision that has been gaining popularity among foreign tourists and expatriates who decide to settle in this paradise on the Mexican coast.
To access Playa Carrizalillo it is necessary to descend a large number of steps. Its access is not enabled for all types of people and this is important to take into account. For example, older people or people with some type of mobility difficulty, it is recommended that they ask for assistance to go down or consider doing it at times when the sun is not very strong, such as early in the morning or in the afternoon for sunset.
There is a myth that says that the best places are those with the most complexities to discover. And Carrizalillo is no exception. Its long staircase guarantees a stunning view. Just the beginning of the path is worth photographing at every moment.
The green cliffs full of palm trees that surround the small bay create a postcard landscape. The turquoise and transparent color of the water complements the visual.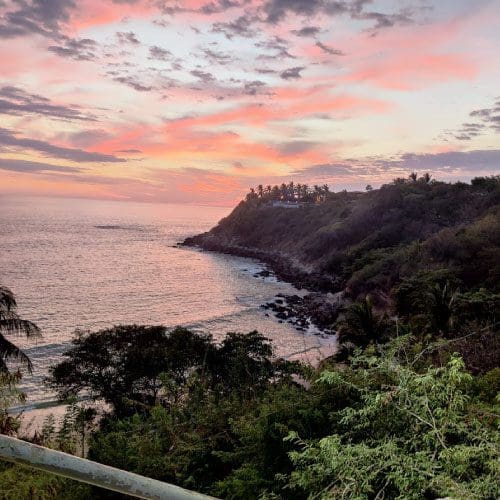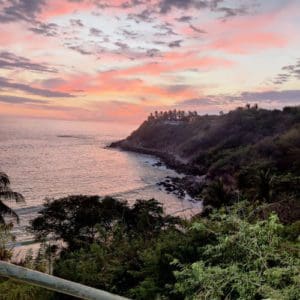 Playa Carrizalillo is an excellent place for surfing learners. There are options to take surf lessons or you can go with your board and explore on your own. It is a great point to learn since, being a bay, its waves are much friendlier than those of Zicatela or other places in Puerto Escondido. In addition, since it is not of easy access, there are usually not many people in the water.
Also, there is a great gastronomic variety on the beach so you can spend the whole day without having to worry about food or being hungry. In general, the most popular in terms of food are seafood and fish. But there are also other options such as typical Oaxacan food, sandwiches, french fries, and so on. The oysters that are collected directly from the rocky area on the sides of the cliffs that surround the beach are very popular. Fresh and straight from the sea!
Finally, this beach is a great place to practice snorkeling and lose yourself for hours in the transparent sea and crystal clear water, observing the variety of fish and corals that hide there. An unquestionably magical and unparalleled experience! You can bring your own equipment or rent at the food stalls that are located there.
And finally, it's not a real vacation day if you don't end up eating and drinking delicious food at night, right? Another point in favor of Playa Carrizalillo is its location. As soon as you go out and go up the stairs you find the main street of Rinconada where there are a wide variety of restaurants and food outlets of all kinds and for all tastes.
Enjoy Playa Carrizalillo on a wonderful vacation day in Puerto Escondido!